Healthy Glowing Radiant Skin
Author: Linda Sinden Date Posted:26 March 2018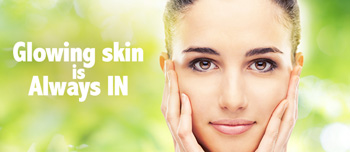 I learnt something new today that makes my mouth drop with awe at the amazing intelligence of the body and the stunning accuracy of the Ayurvedic wisdom for keeping us glowing radiant and healthy.
Did you realise that your skin contains a busy microbiome that is constantly at work even though they are smaller than your eye can detect…
Your skin has 40 different beneficial staphylococcal microbes that work together to keep your skin healthy, whole and radiant. One species called staphylococus epidermidis produces a chemical 6-n-hydroxyaminopurine (6-hap) which research suggests works tirelessly to keep your skin clean, beautiful and looking radiant and healthy. What they feed on is a triglyceride-rich fatty acid called sebum which is naturally produced by the sebaceous glands of your skin.
Interestingly Sesame Oil that is traditionally used in Ayurveda for daily oil massage is rich in triglyceride-rich fatty acid. So the ancient seers of health and wellbeing had it covered. By applying sesame oil to the skin daily the skin biome is nourished and in turn helps to keep your skin radiant, glowing and healthy.
When you add Radiant Skin tablets to the mix then you have a powerhouse which
Strengthens and purifies the liver
Balances skin moisture and temperature
Helps to detoxify and give radiance to the skin
Helps to remove toxins from all parts of the body and supports kidney and liver function
Helps open the pores of the skin to maintain elimination.
To further purify the blood and for occasional blemishes Neem is often used. According to ayurveda, Neem:
Supports healthy, glowing skin
Helps with occasional skin blemishes
Helps detoxify the body and purify the blood
Use our organic Neem for best results.
Which oil should I use?
I know, you are unique and so is every member of your family. Taking this into consideration Ayurveda adds herbals and essential oils to sesame oil in the right mix to balance your unique profile. So read below to see which Massage Oil to add to your daily routine to maximise your wellbeing and to support the healthy glow of your skin!
Wishing you the bliss of balance.
Linda Sinden has been a practising Maharishi Ayurveda Consultant since 1990 and is a regular contributor to our weekly Insights. She has a practice in Auckland, New Zealand and also provides phone or Skype sessions for those who need assistance, but don't have a consultant in their vicinity.

Email: lindasinden@orbislife.co.nz Skype: Linda.Sinden
Mobile: +64 212237525
---
Leave a comment
The Herbs in Maharishi Ayurveda Products Are Prepared in the Traditional Ayurvedic Way. 100% Natural and Side-Effect Free. Made to Naturally Restore Balance in Your Body. Buy Now!