SALE: Stress Relief + Blissful Joy - Want some?
Author: Linda Sinden Date Posted:30 September 2021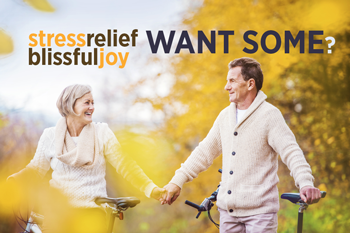 Are you weary, worn down or stressed? What a roller coaster this year has been with movement restriction, working from home, children being homeschooled and the stress of a global life challenging pandemic. No wonder many people report feeling worn down, weary or stressed.
The following duo of Stress Relief and Blissful Joy is a 'life-line' for dealing with the challenges of life now. Here's how to take them:
To help mitigate the impact of stress, support sleep and build resilience, take Stress Relief 2-4 tablets at bedtime.
To support a stable and happy mood take Blissful Joy 1-2 tablets 30-60 minutes after your breakfast and evening meals.
About Stress Relief
Take 2-4 tablets at bedtime with sips of warm water or boiled milk with a little raw sugar.
Build your resilience and life enjoyment by nourishing, supporting and strengthening yourself from within by taking Stress Relief daily. Stress Relief
Nourishes the nervous system, immune system, reproductive system, adrenals, thyroid, muscles and bones.
Increases calm and reduces anxiety and worry.
Support a busy lifestyle.
Is effective when under the pump or feeling stressed.
Aids Great sleep.
Is a tonic for all ages.
Is carefully formulated based on the original traditional formulae.
About Blissful Joy
Take 1-2 tablets 60 minutes after breakfast and evening meals.
Blissful Joy is traditionally used to energise, rejuvenate, provide natural resistance to stressful situations, and support emotional stability by strengthening the heart and emotions. Containing Arjuna Myrobalans, Ashwagandha, Holy Basil, Ailanthus Excelsa and other balancing herbs. Blissful Joy helps:
Support balanced emotions, self-confidence, healthy desires, motivation and a feeling of fulfillment by promoting balanced Sadhaka Pitta.
Enhance fluid balance in the brain, healthy brain cell formation, communication between brain cells and a stable personality by promoting balanced Tarpaka Kapha.
Promotes energy, creativity, perception, growth of consciousness and self-realization by promoting balanced Prana Vata.
Restores the memory of bliss in your cells.
Keep you flexible, alert and energetic.
Wishing you the bliss of balance as we navigate life at this time.
Linda and the Get Balance Team
Linda Sinden has been a practising Maharishi Ayurveda Consultant since 1990 and is a regular contributor to our weekly Insights. She has a practice in Auckland, New Zealand and also provides phone or Skype sessions for those who need assistance, but don't have a consultant in their vicinity.

Email: lindasinden@orbislife.co.nz Skype: Linda.Sinden
Mobile: +64 212237525
---
Leave a comment
The Herbs in Maharishi Ayurveda Products Are Prepared in the Traditional Ayurvedic Way. 100% Natural and Side-Effect Free. Made to Naturally Restore Balance in Your Body. Buy Now!