6 Low-Fat, Protein-Packed Ayurvedic Legume Recipes
Date Posted:12 January 2011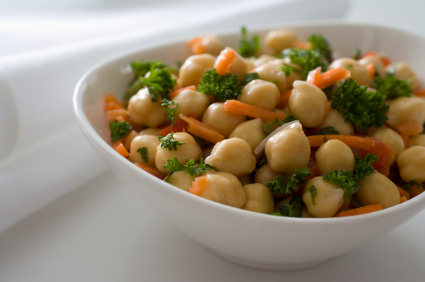 In our earlier article "Add Beans, (Legumes) & Dahl to your Diet for a Low-Fat Protein Boost" we talked about the value of adding legumes to the diet, here we follow up with some great simple recipes to help you introduce legumes to your diet in a healthy way. YUM!
Fresh Bean Sprout Soup
Ingredient List (Serves four)
1 carrot chopped in 1/2 inch pieces
2 sticks of celery chopped in 1/2 inch pieces
1 Tbls. Ghee (clarified butter)
1/2 teaspoon ajwain seeds (available at Indian grocery stores)
1/2 teaspoon cumin seeds
1/2 teaspoon black mustard seeds
1 inch fresh ginger minced
3 cups fresh mung sprouts
3 cups fresh lentil sprouts or other sprouts of your choice
2 tomatoes diced
3 cups vegetable stock
salt and pepper to taste
Cooking Instructions:
In a stainless steel soup pot, melt the Ghee. Add brown mustard seeds. When they start to pop, add the cumin and ajwain seeds. After one minute add the fresh ginger, celery, and carrots. Cook for 5 minutes and then add the sprouts. Stir and cook for several minutes. Then add the vegetable stock and tomatoes. Slowly bring to a boil and then back to a slow rolling boil. Cook for about 30 minutes. Add salt and pepper to taste. Puree in a blender and garnish with fresh sprouts.
Kidney Bean Soup
Ingredient List (Serves four)
1 cup dried kidney beans
5-6 cups of water
2 inch piece ginger, grated
2 tablespoons fresh cilantro, chopped
2 tablespoons Ghee or olive oil
1 teaspoon black mustard seeds
1 teaspoon cumin seeds
1 teaspoon freshly ground coriander seeds
5 curry leaves (available at Indian grocery stores)
1 pinch hing (asafetida)
1/2 teaspoon ajwain
1/2 teaspoon turmeric
one pinch cinnamon
1/2 cup carrots, diced
1 celery stick, chopped into 1/2 inch pieces
1/2 cup fresh spinach leaves
salt and pepper to taste
Cooking Instructions:
Soak beans in water overnight. Drain and discard water. In a large soup pot, melt the ghee. Fry black mustard seeds until they pop. Add cumin, hing, ginger, ajwain, coriander and curry leaves. Sauté for about one minute. Add the beans and stir once. Add the fresh water, turmeric, cinnamon, carrots and celery and bring to a boil. Reduce heat to a low boil and cook about 25 minutes or until the beans are soft. Add the spinach and salt and pepper to taste. Cook for about 10 more minutes. Garnish with fresh cilantro and serve with rice.
Spinach and Mung Bean Dumplings
Ingredient List
1 cup yellow split mung bean dal
1/2 cup fresh spinach, chopped
1 teaspoon fresh cilantro, chopped
1 inch fresh ginger (grated)
1/8 teaspoon baking powder
3/4 teaspoon salt
1/4 teaspoon ground cumin
Ghee or sunflower oil for deep frying
Chutney of your choice (for accompaniment)
Cooking Instructions:
Clean and soak mung beans in water for about 4 hours. Make sure there is at least 2 inches of water covering the beans. Drain and rinse. Make the paste in a food processor by putting the beans in the food processor with 1/2 cup of water and processing for 5-6 minutes, turning the machine on and off every 20 seconds. Scrape down the sides of the processor several times. The texture should be light and fluffy and the consistency should be thick. Stir in the remaining ingredients except the oil and the chutney. Do not overblend or the dumplings will be very hard.
Heat the oil to 375 degrees in a large deep pan or deep-fryer. Drop heaping teaspoons of the batter into the hot oil, about 10 at a time, turning often so all sides are well cooked. Cook for 4-5 minutes. Remove with a slotted spoon and drain on paper towels. Serve with a spice-and-fruit chutney. Dumplings can be served as an appetizer before the main meal.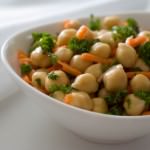 Chick Pea Salad
Ingredient List
1 cup chick peas (cooked al dente)
3 tablespoons olive oil
1/4 cup fresh basil leaves chopped
1 tablespoon lemon juice
salt and pepper to taste
1/8 cup red pepper thinly sliced
Cooking Instructions:
Combine all the ingredients and toss well. Allow to marinate 30 minutes before serving.
Savory Chick Pea Flour Pancakes
Ingredient List
2 cups chick pea flour
1/2 cup white all-purpose flour
1 teaspoon ground cumin
1/2 teaspoon turmeric
1/4 teaspoon hing
1 teaspoon salt
1 teaspoon ground coriander
2 tablespoons chopped parsley
1 1/4 cups cold water
1 cup mung bean sprouts
1/4 cup shredded carrots
Ghee or olive oil for frying
Cooking Instructions:
Mix together flours, salt, and spices. Slowly add the water and knead into a thick batter. Stir in sprouts and carrots. In a frying pan, melt the Ghee at medium heat. Pour in enough batter to make two four inch pancakes. Cook on both sides about 5 minutes. Serve hot with a tart dipping sauce such as one made with yogurt and fresh mint.
Green Lentil Dessert Fudge
Ingredient List
1 cup whole mung beans (soaked overnight)
4 tablespoons Ghee
1 tablespoon raisins
1 pint whole milk
1 cup sugar
1 teaspoon ground cardamom
10 blanched almonds, halved
Cooking Instructions:
Drain and grind soaked mung beans in a food processor until a smooth paste. Fry the paste in Ghee until golden. Add raisins, milk, sugar and cardamom. Slowly cook on low heat, stirring until all the liquid is absorbed. Turn onto a greased dish and garnish with nuts. Serve hot.
The Herbs in Maharishi Ayurveda Products Are Prepared in the Traditional Ayurvedic Way. 100% Natural and Side-Effect Free. Made to Naturally Restore Balance in Your Body. Buy Now!