Add Beans (Legumes) & Dahl to your Diet for a Low-Fat Protein Boost.
Date Posted:12 January 2011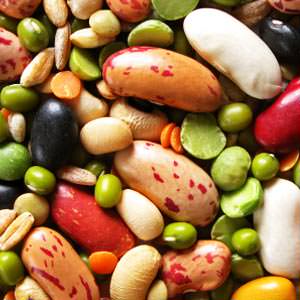 There are multitudes of legumes grown all over the world in many different shapes, sizes and colours. Legumes as a much needed source of protein have been cultivated for thousands of years, with varieties flourishing in both warm and cool climates. In many parts of the world, especially in the developing regions legumes are seen as very valuable components of a balanced diet, along with being a very inexpensive source of vital nutrition – they are high in complex carbohydrates, protein & fibre, and relatively low in fat.
Besides being a great source of nutrition they are very versatile in the manner they can be consumed, combining beautifully with grains, vegetables and interacting well with simple spices – tasting delicious with buttery like flavours and subtle almost nutty qualities.
What on earth are legumes?
In plain speak legumes are classified as lentils, beans or peas, with all of them actually seeds from a variety of certain plants. Varieties of Dal (or Dahl) that are mentioned throughout Ayurvedic cooking guides, are legumes. According to Ayurveda legumes are astringent in taste (we try to get all six tastes in each meal), and help build the muscle tissues, especially important for those on a vegetarian diet.
In traditional Ayurvedic recipes legumes are often included in almost every meal of the day – not only the main course, but desserts and snacks as well. The protein in them is distinct from the proteins found in meat products, fish, cheeses and eggs. This different type of protein requires acclimatising your digestive system, or the addition of spices to aid the digestive process. Examples of supporting digestive spices are asafetida (also called hing), cumin, fresh ginger and black pepper. Adding these will help reduce or avoid side effects of being new to beans – bloating or gas. Additionally, soaking dry beans or rinsing tinned beans will also help.
These side effects are easily managed, and with regular inclusion of legumes in your diet, your body will adapt and enable you to digest them more effectively, eliminating the downsides.
What legume is the easiest to digest?
The most easily digested variety from the point of view of Ayurveda is the yellow split mung dal. Yellow mung beans are just green mung beans after hulling and splitting. This dal is beneficial for balancing all three doshas and is very quick to cook, taking less than 20 minutes with no soaking (reduced if you have a pressure cooker). If you're buying them dry in bulk, be sure to rinse them and look for small pebbles that may have snuck in.
3 Simple Ways to Prepare and Cook with Legumes
1: Legumes soaked in water for 8-12 hours (overnight) and cooked by boiling in water the next day. Spices can be added during cooking or sauted with Ghee added after cooking (or both if you like, to taste). To add in some variety, throw in vegetables and grains to end up with a nutritious stew. Serve with rice or bread to round out the meal. Chapati (indian flatbread) or pita work in nicely.
2: Soak the legumes for 2-4 hours and then grind in to a paste to make dumplings, savoury fritters and desserts
3: Legumes can be ground into flours and used in a wide range of baking and cooking recipes from breads to desserts.
If you're thinking to make Legumes a regular part of meals, a pressure cooker is a great investment. The sealed pressure cooking system will help massive speed up cooking times and cook a wider range of dals without requiring lengthy soaking prior to cooking. This style also assists getting a butter-soft consistency – recommended by Ayurveda as being the most digestible state.
What are the most commonly used legumes I should experiment with?
Split mung dahl
Whole mung bean
Chick peas or garbanzo beans
Split chick peas (channa dal)
Black bean, whole or split
Brown lentils, whole or split
Toor dahl
Pinto beans
Navy beans
Lima beans
Kidney beans
The variety of cooking options is endless, but I find the greatest inspiration and supply of tasty legume meals from indian or mexican origins. To get you started we've put together six simple legume recipes, for details, click here →
The Herbs in Maharishi Ayurveda Products Are Prepared in the Traditional Ayurvedic Way. 100% Natural and Side-Effect Free. Made to Naturally Restore Balance in Your Body. Buy Now!