Be Allergy-Free this Spring
Date Posted:3 September 2013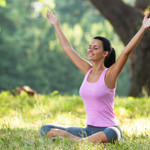 Have you noticed the warmer weather and increased daylight hours? Isn't it great to feel the warmer weather on its way? This change signals to the plant world that it is time to wake from the dormant days of winter and to once again begin the life-giving process of sprouting and growing.
This does give rise to an increase of pollen in the air, which for some can be a concern. It's that time when itchy eyes, runny nose and sneezing can be triggered as the seasons turn into spring. This week we take a look at what you can do to prevent an unhealthy response to spring flowers, dust, mould or pet fur.
Helpful Herbals
If you have a tendency for springtime allergy now is the time to start taking
Aller Defence 2 tablets with warm water before breakfast and evening meals (30 minutes prior). Take for 45 days at the start of allergy season and for 45 days after the desired result and comfort is achieved.
For extra immune support also take Nervous System Support – a general rejuvenative and nerve tonic that supports the body's natural immune function.
Tips for Allergen Resistance
Avoid foods that produce digestive impurities such as leftovers and packaged, canned or frozen foods.
Where possible buy organic or chemical-free foods as they do not tax the liver or cause toxins to accumulate.
Drink plenty of warm or room temperature water to clear impurities from the microcirculatory channels.
Avoid foods that tend to clog the body's channels, blocking waste from being removed and nutrients from reaching the cells - bananas, eggplant, sweet peppers, potatoes and tomatoes.
Yogurt: If you take yogurt choose fresh yogurt ideally made that day. Blend with three parts water to form a healthy, digestion-enhancing drink called lassi.
Use Herbal Nasal Oil to protect and condition nasal membranes naturally.
Go to sleep by 10:00 p.m. the time of night when the body's digestive system needs to rest and purify toxins.
If you're bothered by pollen keep your windows closed when the pollen season is at its peak. Change your clothing after spending time outdoors. Get someone else to mow your lawn.
Remove carpets and rugs. Hard floor surfaces don't collect dust as much as carpets.
Clean your home frequently. If your response to allergens is severe, you may want to avoid doing the cleaning yourself and hire a housekeeper.
Avoid damp areas, such as basements, if you're allergic to mold. Keep bathrooms and other mold-prone areas clean and dry.
When pollen counts are down, keep your house well ventilated to reduce humidity levels and prevent mold from forming. Open your windows when cooking and bathing.
Wishing you a happy and healthy spring season.
The Get Balance Team
The Herbs in Maharishi Ayurveda Products Are Prepared in the Traditional Ayurvedic Way. 100% Natural and Side-Effect Free. Made to Naturally Restore Balance in Your Body. Buy Now!