Be Physically Fit - Keep Your Edge
Author: Linda Sinden Date Posted:16 October 2020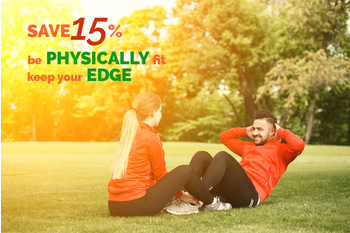 Physical activity does promote your natural immunity. As the rising warmth of Spring makes way for Summer the desire to be more active and to be out in nature often arises. How about putting on your walking shoes and enjoying the spring flowers!
Kapha dosha is strongest in all of us at this time of the year and exercise helps to stimulate and energize the body, reducing the tendency for lethargy, heaviness, low mood and a sluggish digestion. To help maximise your energy, stamina and the health benefits of exercise here are 3 products traditionally used to support fitness and wellbeing.

No 1: Amalaki Organic
$27.95 Now $23.75
The rejuvenating properties of Amla Berry help to cool, tone and nourish your tissues and organs. It balances, vata, pitta and kapha and is especially calming to Pitta. It is described as having longevity-enhancing and disease-defying qualities. A rich source of antioxidants and vitamin C, Amalaki is the best among rejuvenative herbs​ and is traditionally known to promote
Energy, strength and endurance
Muscle tone and lean muscle mass a​s it enhances protein synthesis and promotes a positive nitrogen balance.
Reproductive health
Liver care as it helps to protect the liver and aids in the reduction of cholesterol and its antioxidant activity is most impressive.
Cardiovascular health as it is a tonic for the heart and the arterial system,
Respiratory health as it strengthens lung tissue
A sharper intellect, stronger mind and heightened sensory awareness
Healthy hair as it helps to prevent early graying or thinning of hair
Healthy teeth and bones as it supports absorption of calcium and other nutrients.

No 2: Guggulu Organic
$49.95 Now $42.44
Would you enjoy an energy boost and additional support for recovery after exercise? If yes, then Guggulu Organic is amazing!
If you suffer arthritic pain, rheumatic pain, back pain, headache, body stiffness or pain from fractures then Guggul can be helpful.
If you feel stiff after exercise, gardening or work it is also useful.
If you have a tendency for weight gain, high cholesterol or triglycerides, cardiovascularissues, digestive weakness, low libido, get sick easily, have skin issues or a slow thyroid.
If you are 55+ and feeling that your digestion has slowed down and you notice more aches and pains than usual, or you want an energy boost.
If you feel low and need a boost or tonic.
NOTE: Do not take Guggul if you are pregnant or wanting to get pregnant.
Energy Plus
$52.95 Now $45.00
This preparation is a combination of two very popular Ayurvedic herbs— Ashwagandha (Indian winter cherry) and Shatavari (Indian Asparagus).
Ashwagandha supports muscular stamina and nourishment for the brain, assisting mental concentration and stamina.
Shatavari is known for it's rejuvenative and strengthening properties. This formulation helps to make food more wholesome and supports the potency of other preparations that are taken along with it.
If Vata or Pitta is strong in you either by nature or imbalance this formula will be helpful especially when wanting to have a tonic to support regular exercise.
Wishing you the bliss of balance as you enjoy being physically active in nature at this beautiful time of the year.
Linda Sinden and the Get Balance Team
Linda Sinden has been a practising Maharishi Ayurveda Consultant since 1990 and is a regular contributor to our weekly Insights. She has a practice in Auckland, New Zealand and also provides phone or Skype sessions for those who need assistance, but don't have a consultant in their vicinity.

Email: lindasinden@orbislife.co.nz Skype: Linda.Sinden
Mobile: +64 212237525
---
Leave a comment
The Herbs in Maharishi Ayurveda Products Are Prepared in the Traditional Ayurvedic Way. 100% Natural and Side-Effect Free. Made to Naturally Restore Balance in Your Body. Buy Now!