Best herbs to boost my immunity
Author: Linda Sinden Date Posted:5 February 2020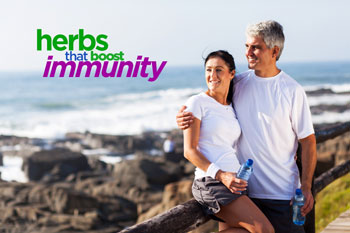 You may have been wondering what you can do to boost your immunity to help protect you from viruses. Without a doubt the herbal combination I would recommend to help strengthen and support your immunity is

In addition I would also suggest you take a special drink at bedtime too..


The Amrit Kalash duo of Nectar and Ambrosia
This potent anti-oxidant Rasayana has been called "The Nectar of Immortality". With a unique blend of over 40 herbs and fruits Amrit Kalash Nectar and Ambrosia provide a wide range of antioxidants (including a natural form of Vitamin C) that help to enliven the underlying intelligence within your body. When the intelligence in the body is stimulated or enlivened Ayurveda explains the body is more easily able to create the life giving and immune protecting substance called Ojas.
Classical Ayurvedic texts explain that Ojas is the source of all life and when it becomes depleted life ends. Candice Pert, PhD at the National Institutes of Health (NIH) discovered that neurotransmitters act as carriers for the immune, nervous and endocrine systems and the emotions. Dr Pert's description of how these neurotransmitters act, closely matches how Ayurveda describes ojas.
The two-part formula taken together supports and strengthens all levels of the body and mind promoting energy, immunity and general health.
Amrit Kalash Nectar helps to strengthen the heart, mind and immune system.

Amrit Kalash Ambrosia helps to strengthen the brain, nervous system and mental functions, helping to support, happiness, creativity, mental balance and refined awareness.

The Research literature makes it clear why Maharishi named Amrit Kalash the Nectar of Immortality!


When should I take it?
Take 1-2 tablets of both Amrit Kalash Nectar and Amrit Kalash Ambrosia prior meditation or 30 minutes prior breakfast in the morning and prior the afternoon meditation or 30 minutes prior your evening meal.

When taking the Amrit formula people report they feel happier, resilient to stress, are more alert, creative, have more energy and feel less fatigued along with greater inner calm. Sounds good huh! Would you like some too?
Immunity Boosting Bedtime Drink
Consider taking this night time tonic for 30 days to radically boost your immunity by supporting your body's production of Ojas! This recipe combines key foods, spices and herbs that help to build and maintain your Ojas levels.

Place 1 cup of organic whole milk (you may substitute with non-dairy milk, such as coconut, almond or hemp along with the ingredients below) into a pot and slowly bring it to the boil.

Chopped dates (1 tbsp)

Chopped almonds (2 tsp)

Coconut meat or flakes (1 tbsp)

Saffron (1/2 tsp)

Ghee (1-2 tsp) or replace with 1-2 tsp of Coconut Butter

Cardamom (1/8 tsp)

Add 1 tablet of Shatavari and 1 tablet of Ashwaganda or 1/8th of a tsp of each.

Once boiled, drink at a comfortable temperature prior bed.
Wishing you the bliss of balance with a strong and healthy immune system today and always.
Linda Sinden and the Get Balance Team
Linda Sinden has been a practising Maharishi Ayurveda Consultant since 1990 and is a regular contributor to our weekly Insights. She has a practice in Auckland, New Zealand and also provides phone or Skype sessions for those who need assistance, but don't have a consultant in their vicinity.

Email: lindasinden@orbislife.co.nz Skype: Linda.Sinden
Mobile: +64 212237525
---
Leave a comment
The Herbs in Maharishi Ayurveda Products Are Prepared in the Traditional Ayurvedic Way. 100% Natural and Side-Effect Free. Made to Naturally Restore Balance in Your Body. Buy Now!