Check out the Longevity Club!
Author: Linda Sinden Date Posted:8 July 2020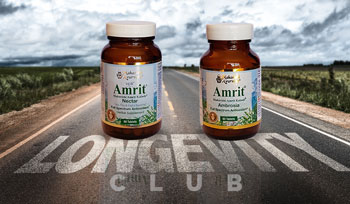 This month we are restarting the Longevity Club to support you in maintaining immune strength and the whole health benefits of Amrit Kalash Duo. This potent Ayurvedic Rasayanas supports the mind and body at its deepest level. When Maharishi Mahesh Yogi, the founder of Maharishi Ayurveda released Amrit Kalash to the World, he was so moved at its power to promote wellbeing that he called it the Nectar of Immortality. The research literature makes it clear why Amrit Kalash is considered a 'superstar'.
If you know of the Amrit Kalash Duo already, then you will be pleased to see that the Longevity Club provides you with an annual saving of up to $338.28! If you are new to Amrit Kalash, read on to know why it is the basis of the Longevity Club. Then see how to become a Longevity Club member.
What is the Longevity Club
The Longevity Club offers products that support longevity at a reduced rate to Club Members. Amrit Kalash Duo forms the basis of the Longevity Club, and members receive a 15% saving on their quarterly purchase of the Amrit Kalash Duo. At times other products may also be offered at a reduced rate to Longevity Club members.
What is so special about Amrit Kalash?
1.The formulation
With a unique blend of over 40 herbs and fruits, Amrit Kalash Nectar and Ambrosia provide a wide range of antioxidants (including a natural form of Vitamin C) that help to enliven the underlying intelligence within your body. When the intelligence in the body is stimulated or enlivened, Ayurveda explains the body is more easily able to create the life-giving and immune protective substance called Ojas. Classical Ayurvedic texts tell that Ojas is the source of all life and when it becomes depleted imbalance and illness arise.
2. Preparation - 250 Steps to Perfection
Amrit uses a traditional formula handed down from generation to generation of Ayurvedic physicians. In 250 meticulous steps, whole herbs are prepared and combined in precise proportions. The synergy creates a whole that is greater than the sum of its parts.
3. Wide-Ranging Benefits
The two-part formula supports and strengthens all levels of the body and mind promoting energy, a healthy immune system, heart health, respiratory strength and general health.
Amrit Kalash Nectar helps to strengthen the heart, mind, respiratory and immune system. There are four essential herbs in Amrit Kalash Ambrosia - Withania somnifera, Glycyrrhiza glabra, Vidari Kanda and Asparagus adscendens; with nine supportive herbs.
Amrit Kalash Ambrosia helps to strengthen the brain, nervous system and mental functions, helping to support happiness, creativity, mental balance and pure awareness. The two key herbs in Amrit Kalash Nectar are Emblica Officinalis and Chebulic myrobalan. Thirty-five additional supportive herbs synergistically work together to produce the powerful results that this formula provides.
4. The Amrit Experience
People who take Amrit regularly report they feel happier, resilient to stress, are more alert with improved creativity and experience less fatigue. Also, they report having more energy with greater inner calm.
How do I join the Longevity Club?
Select the link below for the Amrit Kalash Duo you prefer and complete your first quarterly order. You will receive a 15% discount for this order and each subsequent order which will be automatically sent to you each quarter. You may cancel at any time, giving five days notice by phone or email. Select your preferred link below:
I would like the Amrit Kalash Duo - Sugar-Free Option >
I would like the Amrit Kalash Duo - Including Traditional Paste >
What Dr Hari Sharma said
Dr Hari Sharma, M.D., Professor Emeritus and Former Director of Cancer Prevention and Natural Products Research, The Ohio State University College of Medicine said "When the results of these studies first came in… I added Amrit Kalash to my diet. There is little precedent for single substances that produce such profound and wide-reaching effects."
So if you are wanting a holistic formulation to help support all levels of your mind and body consider making Amrit Kalash Nectar and Amrit Kalash Ambrosia part of your everyday health promotion and prevention regimen. They deserve their status as the Nectar of Immortality.
I would like the Amrit Kalash Duo - Sugar-Free Option >
I would like the Amrit Kalash Duo - Including Traditional Paste >
Wishing you the bliss of balance, today and always.
Linda Sinden and the Get Balance Team
Linda Sinden has been a practising Maharishi Ayurveda Consultant since 1990 and is a regular contributor to our weekly Insights. She has a practice in Auckland, New Zealand and also provides phone or Skype sessions for those who need assistance, but don't have a consultant in their vicinity.

Email: lindasinden@orbislife.co.nz Skype: Linda.Sinden
Mobile: +64 212237525
---
Leave a comment
The Herbs in Maharishi Ayurveda Products Are Prepared in the Traditional Ayurvedic Way. 100% Natural and Side-Effect Free. Made to Naturally Restore Balance in Your Body. Buy Now!