Childhood Winter Ills
Author: Linda Sinden Date Posted:4 June 2018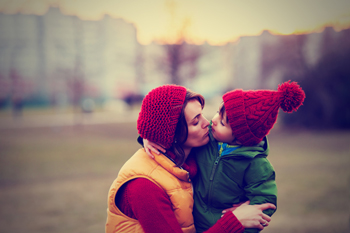 The natural joy and stamina of children is inspiring. From the first days of life to their early teens to late teens, nature's resilience and impulse to grow dominates.
Even if your child by nature is strong in Vata or Pitta during the childhood years Kapha will be a dominant guiding force. Is your child….
Quick moving, a chatterbox who never sits still, with a tendency to be slight and sensitive to the cold - Vata nature
Intense and goal centred, a natural leader with a medium build and tendency to get angry if things seem unfair and likes to wear few clothes - Pitta nature
Easy going, strong, loving, considerate and a team player who has a tendency to be more round or curvy - Kapha nature
Ayurveda explains that childhood is a time which is governed by Kapha Dosha.
Kapha dosha governs bodily functions concerned with physical structure and fluid balance. Kapha governs the healthy formation of fat, muscles, bone and sinew. It protects the heart and lungs and provides strong muscles. Kapha is responsible for lubrication of the joints, skin, nose, mouth, eyes, lungs and for the sense of taste which is essential for good digestion. The main seat of Kapha in the body is the lungs.
So winter and spring is a time when the colder weather of Winter can cause Kapha to become aggravated resulting in an increase of phlegm or mucus in the throat, lungs and sinuses. So here are some tips to help keep your child fit and healthy this winter.
How to balance Kapha Dosha in the cold season
The key to restoring balance is to apply the opposite of the quality that has become aggravated.
For example as Kapha is cold, heavy and moist favour warm food and drinks to stimulate, warm and enliven the mind and body: See Kapha balancing foods here>
These choices automatically reduce the cold, heavy and moist tendencies, thereby helping you to feel more balanced.

As upper respiratory imbalance first starts in the stomach keeping your digestion strong and healthy is a must during winter and at the first signs of a cough or cold. Be sure to avoid heavy foods like cheese, meat, yogurt or curds after 2pm and to reduce or avoid deep fried foods during winter or the colder months. Reduce or avoid dairy products when phlegm is present.

Consider taking Herbal Digest along with Flu Col Defence 30 minutes prior breakfast and evening meals as a preventative.

Keep your child warm when inside and outside. Dress according to the season and avoiding drafts on the neck and getting chilled.

If you or your child has a tickly throat or productive cough consider taking:
Ensure your little one takes more rest. If the congestion thickens or changes colour and you are concerned then visit your local Doctor for a reassuring check up.

Dosage of herbals for children:

Children between 4 and 10 years: ½ dose. Take with honey and or lukewarm water.
Children between 2 and 4 years: ¼ dose. Take with ½ tsp of honey.
Children between 6 months and 2 years: 1/8th dose. Take with ½ tsp of honey.

Wishing you the bliss of balance.
Linda Sinden and the Get Balance Team
Linda Sinden has been a practising Maharishi Ayurveda Consultant since 1990 and is a regular contributor to our weekly Insights. She has a practice in Auckland, New Zealand and also provides phone or Skype sessions for those who need assistance, but don't have a consultant in their vicinity.

Email: lindasinden@orbislife.co.nz Skype: Linda.Sinden
Mobile: +64 212237525
---
Leave a comment
The Herbs in Maharishi Ayurveda Products Are Prepared in the Traditional Ayurvedic Way. 100% Natural and Side-Effect Free. Made to Naturally Restore Balance in Your Body. Buy Now!