Edible Ayurveda - Broccoli Walnut Salad
Author: Linda Sinden Date Posted:22 October 2018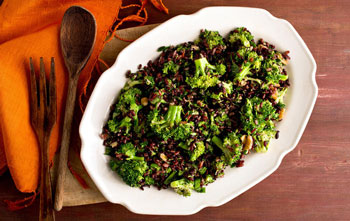 Enjoy a rainbow of colour and nutrients
Did you know… the different colours in fruits and vegetables signal the presence of helpful bioactive phytochemicals or compounds that plants use to protect themselves from predator insects, pollution and disease. Isn't nature inventive!
When we ingest a fruit or vegetable this protective influence can be helpful to us too as they provide powerful antioxidant protection. So here is a salad recipe to help you enjoy a power packed rainbow of colours. Enjoy!


Broccoli Walnut Salad
2 cups chopped broccoli or broccolini
1 cup mung bean sprouts or mixed sprouts
Juice of 1 lemon
4 teaspoons of light soy sauce
1 cup pearl barley, cooked (see Cook's Note)
1 orange, peeled, segmented
1/2 cup of pomegranate seeds
1/2 cup roasted walnuts
1/2 cup lightly toasted sunflower seeds
The zest and juice of 1 orange
1 rounded tsp of seasonal Pitta Churna Organic
4 teaspoons of extra-virgin olive oil
To cook pearl barley, cover with cold water and bring to the boil. Then lower the heat to a low simmer, cover and cook for 25 minutes. The barley is done when it has tripled in volume and is soft yet chewy.
Trim broccoli and cut into florets. If using broccolini, cut each stem into 3. Blanch the florets in boiling water for 1 minute or until bright green and tender yet still crispy. Tip into a colander and allow to cool to room temperature. Drain well.
In a large salad bowl, toss together the broccoli, sprouts, barley, orange segments, pomegranate flesh, nuts and seeds.
Whisk together the orange zest and juice, oil, lime or lemon juice, Pitta Churna Organic and soy sauce.
Drizzle dressing over the salad and toss gently.
Adjust seasonings if needed.
Take a portion equivalent to your two hands cupped.
Powerful protection
Foods with red pigments contain anthocyanins and carotenoids and are considered the heroes of antioxidants. Vitamin C is also often present in foods containing red pigments.
Foods with green pigments are high in Vitamin C, flavonoids and carotenoids. Broccoli, cabbage and brussel sprouts contain antioxidants and contribute significant amounts of fibre, folate, B vitamins, vitamin K, iron, potassium and calcium.
Foods containing orange and yellow pigments are rich in carotenoids, which also give them their vibrant colours, as well as many other phytochemicals. The yellow-orange group is also a good source of fibre.
Flag Ship full-spectrum antioxidant
Have you heard about Amrit Kalash our Flag Ship full-spectrum antioxidant formula? People take it for its powerful antioxidant protection, to support energy, mental function, stress resilience, heart health, healthy tissue formation, immune strength and to help provide protection from environmental toxins.
Research has shown that Amrit Kalash Nectar is 1000x more effective in eliminating free radicals (the root cause of aging) than vitamins C or E. (Pharmacology, Biochemistry & Behavior, Vol. 43.)

"I work for a chain of department stores. For several years, my job has entailed traveling from one store to another in this region. My resistance was low. An acquaintance suggested I try Amrit. I had never heard of it before, but I sought out the source and ordered it the following week. I have been taking Amrit for about two years now. It works!! Friends ask me why I never get any "bug" going around. I tell them about Amrit. Customers think I'm in my 30s. Friends have commented that I look younger. What an ego boost! I exercise, and take Amrit regularly. Thank you!"
W.P.G., San Diego, CA

"My husband has recently been undergoing chemotherapy. We heard of the Maharishi Amrit Kalash products having scientific validation for supporting the immune system throughout this process, so we put him on the Amrit Ambrosia and Amrit Nectar tablets. He is coping well, still no signs of nausea or loss of appetite - he has actually gained 6kg in weight!"
RVW, Perth Australia
Wishing you the bliss of balance.
Linda Sinden has been a practising Maharishi Ayurveda Consultant since 1990 and is a regular contributor to our weekly Insights. She has a practice in Auckland, New Zealand and also provides phone or Skype sessions for those who need assistance, but don't have a consultant in their vicinity.

Email: lindasinden@orbislife.co.nz Skype: Linda.Sinden
Mobile: +64 212237525
---
Leave a comment
The Herbs in Maharishi Ayurveda Products Are Prepared in the Traditional Ayurvedic Way. 100% Natural and Side-Effect Free. Made to Naturally Restore Balance in Your Body. Buy Now!