Enjoying life to the max
Author: Maharishi Ayurveda Date Posted:1 June 2016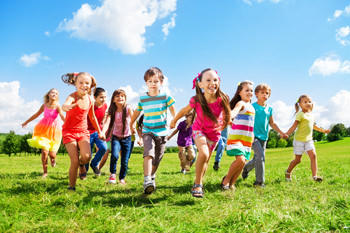 Children are such good teachers... remember the excitement of waking on Christmas morning or your birthday, wondering what delightful surprises the day would unfold?

Waking up with anticipation of something pleasant or enjoyable happening in the day is one of the behaviors that people with a high level of wellbeing embody.
Simple as it sounds, adopting this practice is a subtle but important way to enhance life enjoyment, reduce stress and protect your wellbeing.
So give it a go this week!
Thinking back ... take a moment to reflect on your life over the last months and consider: what had you springing from your bed looking forward to your day? What made your life worthwhile? What caused you to smile? What did you really look forward to?
Each night this week as you let go of the day prior to sleep, "acknowledge what you really enjoyed about today". Give a mental thanks to yourself and others for the many small and large gifts you enjoyed during the day. Then let the day go, and let the office or work go as you settle into sleep with the gentle smile of gratitude this exercise brings.
First thing when you wake, reflect on the day ahead. Bring the innocence of a child to the activity of acknowledging what you are looking forward to in the following day. As you walk through the day ahead in your mind, take a moment to pinpoint the times of this day that you are looking forward too. Be sure to add into your day some special activity that makes you smile.

To help you start the day in touch, here is a feeling good routine for you to enjoy

Wake and take a moment to reflect upon the day ahead.
What are you looking forward to today?

Give yourself an extra half hour in the morning

Do your chosen meditation technique, reflection or prayer.

Take a walk. Breathe in the fresh air of the new day

Dress as well as you can. Like what you are wearing

Eat a good breakfast and follow it with Digest Plus if digestion is sluggish, or Aci-Balance
if your appetite tends to be sharp or acidic.

Whistle (inside if you like) on the way to work

Take good cheer and positive vibes into your workplace

Organise/prioritise your day. Work when you are at work

Take one hour for a good lunch away from your workspace and follow it with
Digest Plus if digestion is sluggish, or Aci-Balance if appetite tends to be sharp or
acidic.

Going home, leave your work at work
Eat a satisfying evening meal by 6-7 pm and follow it with Digest Plus if digestion
is sluggish, or Aci-Balance if appetite tends to be sharp or acidic.
Be in bed by 10pm light out for a great nights sleep. Prior sleep take a moment to
appreciate your day and go to sleep knowing the day is done and you can rest now and

If you have difficulty going to sleep take a drink of Slumber Time Tea along with
Blissful Sleep 1-2 tablets prior bed. If you find you go to sleep easily but wake in the night,
then take Deep Rest 1-2 tablets prior bed. If you wake during the night take another
1-2 tablets of Deep Rest. As your mind and body enjoys the suggested routine above it is
very likely that sleep will become deep and enjoyable once again.
As you adopt this routine you will notice how the whole is more than the sum of the parts. By gently following the routine you will see how much stronger you feel, more resilient to the daily challenges and how much happier and fulfilled you naturally are.
Wishing you the bliss of life balance this week.
Linda Sinden has been a practising Maharishi Ayurveda Consultant since 1990 and is a regular contributor to our weekly Insights. She has a practice in Auckland, New Zealand and also provides phone or Skype sessions for those who need assistance, but don't have a consultant in their vicinity.

Email: lindasinden@orbislife.co.nz Skype: Linda.Sinden
Mobile: +64 212237525
---
Leave a comment
The Herbs in Maharishi Ayurveda Products Are Prepared in the Traditional Ayurvedic Way. 100% Natural and Side-Effect Free. Made to Naturally Restore Balance in Your Body. Buy Now!