Getting Ready For Summer?
Author: Maharishi Ayurveda Date Posted:2 November 2015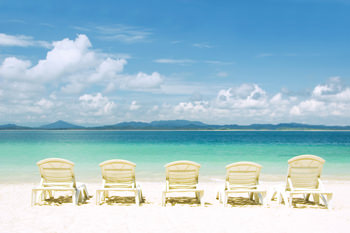 Chances are your life is busy, right? Making it effortless and keeping it simple becomes particularly important when life is demanding. That means it's helpful to know what is the single most important choice you can make to maintain mind body balance this summer.
Balance the intense and hot qualities of Pitta this summer by

1. Adopting Moderation
Adopt moderation in your lifestyle by balancing work hours with times to relax, meditate, chill and connect with loved ones.
Consider making appointments in your diary for quality time with loved ones and friends and enjoy connecting in the outdoors.
When the weather is hot stay out of the midday sun and exercise indoors or in the cooler hours of the day.
Holidays in natural settings (beaches, lakes, a forest or bush area) are very cooling and expanding for mind and body.

2. Choose a Pitta balancing diet and avoid stimulants
Adopt moderation in your food choices by reducing or avoiding caffeinated drinks, alcohol and spicy, sour or salty foods as they increase heat within.
Favour Pitta pacifying foods https://www.getbalance.co.nz/pitta-pacifying-diet
Drink Pitta tea during the day. It is delightful warm or taken as a base tea to which sweet juice is added.
Consider taking Aci-Balance to help balance digestion during summer. It has a balancing effect when digestion is too sharp and also if digestion has become low. Take 1 tablet after your main meal.

3. Nourishing mind and body
To help balance body heat, hypertension, asthma, general weakness and lack of assimilation take 1 dessertspoon of the sweet and balancing herbal tonic called MA3323.
Take MA3323 prior breakfast, dinner and at bedtime. It's my favourite herbal and has a wonderful effect on the mind and body.

4. Chill down for a great sleep
When the weather get's hot it can be unsettling for sleep. The Pitta element increases at night from 10pm onwards and can give rise to an intensity of thought making it harder to go to sleep or waking you in the night.
Be sure to use natural fibres for bedding and aim to be in bed by 10pm.
Gently rub your feet for 5 minutes with coconut oil or ghee (clarified butter) at bedtime. Remove excess oil with a soft cloth or paper towel. This helps you to enjoy a deeply relaxing sleep so you will wake feeling rejuvenated.
If you find your sleep is more unsettled when the weather warms up consider taking Deep Rest 2 tablets prior bed.
"Your body today is the result of your choices yesterday. Your body tomorrow will be the result of your choices today"
4000 year old Vedic expression
So make great choices this summer and enjoy the warmer weather and blue skies.
Wishing you the bliss of balance.
Linda Sinden has been a practising Maharishi Ayurveda Consultant since 1990 and is a regular contributor to our weekly Insights. She has a practice in Auckland, New Zealand and also provides phone or Skype sessions for those who need assistance, but don't have a consultant in their vicinity.

Email: lindasinden@orbislife.co.nz Skype: Linda.Sinden
Mobile: +64 212237525
---
Leave a comment
The Herbs in Maharishi Ayurveda Products Are Prepared in the Traditional Ayurvedic Way. 100% Natural and Side-Effect Free. Made to Naturally Restore Balance in Your Body. Buy Now!