Happy Microbes, Robust Immunity
Author: Linda Sinden Date Posted:10 September 2021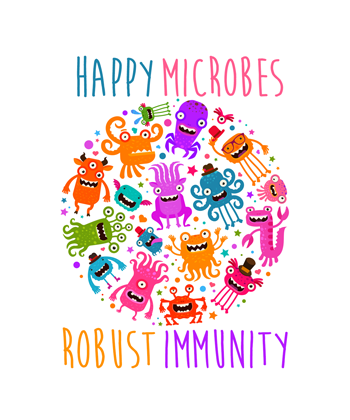 Did you know that unwholesome foods, along with mental and emotional stress impacts both the microbiome in your gut and the microbiome in your lungs. Why is this important?

An unhealthy microbiome reduces the robustness of your immune system meaning your immune cells become under resourced and at a time when you really need it protecting you.
Along with dietary suggestions (see below) Ayurveda recommends the best approach to immune power is to strengthen the person's digestive microbiome and respiratory biome rather than targeting an invader, the way Western medicine does with antibiotics. This week we consider three key herbals targeted to do just this..

Three herbs to help heal digestion, respiratory tract and boost immunity
Take one quarter to one half a measured teaspoon 2-3 times a day at the start of your meal or within the first third of your meal. Mix with food or 1/8th cup of warm water.

This powerful blend of ginger, balck pepper, long pepper and cloves boost your primary digestive fire helping to create balance and increasing nourishment as it aids rapid absorption of nutrients. Agni Balance also helps stimulate the innate immune cells that are your body's first line of defense against foreigh bodies while helping to prevent them attaching to your respiratory tract.

Take 2-3 tablets 1 hour before bed daily with a little warm water, or take 1 tablet after meals 3 times daily.
You may already know that Digest Tone is an amazing herbal formula that deserves it's spot as one of our best sellers for a very good reason. It rejuvenates the digestive tract, is antioxidant rich, cleanses liver, blood, muscle and fat tissue, enhances circulation and capillary strength, is a cardio tonic, helps balance cholesterol, has an anti inflammatory effect, assists in weight loss and is nourishing to both the eyes and the skin.

What may be new to you is that Triphala is a powerful immunomodulator which means it dials up or down the release of immune cells during an immune event, just when you need the support. So making Digest Tone a regular part of your daily support programme is a very good idea at this time.
Tulsi

Take 1-2 tablets twice daily with water after meals
Tulsi, also known as Holy Basil, supports the respiratory system, boosts immune response against infective threats particularly in the respiratory system, helps adapt to stress, provides digestive and liver support.

Wholesome Food Tips
Along with eating foods that are in season, taking freshly cooked meals, and eating when hunger, it is also best to have your largest meal of the day at lunchtime when digestive strength is at its hottest. This reduces the negative impact of undigested food on your microbiome and increases your absorption of nutrients to nourish your immune system.
Agni Balance, Digest Tone and Tulsi are a powerful trio to support the microbiome in your gut and lungs in order to maintain a robust immune system.

Linda and the Get Balance Team

Linda Sinden has been a practising Maharishi Ayurveda Consultant since 1990 and is a regular contributor to our weekly Insights. She has a practice in Auckland, New Zealand and also provides phone or Skype sessions for those who need assistance, but don't have a consultant in their vicinity.

Email: lindasinden@orbislife.co.nz Skype: Linda.Sinden
Mobile: +64 212237525
---
Leave a comment
The Herbs in Maharishi Ayurveda Products Are Prepared in the Traditional Ayurvedic Way. 100% Natural and Side-Effect Free. Made to Naturally Restore Balance in Your Body. Buy Now!