Has your pace of life ramped up a little?
Author: Linda Sinden Date Posted:23 October 2019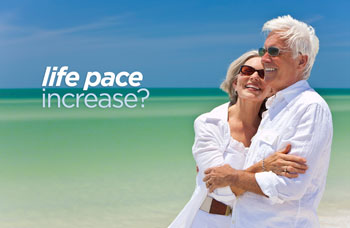 Does the pace of your life pick up a notch as daylight lingers longer in the evenings and we move towards summer?
Moderation is needed most when life is busy and demanding. Have you noticed that being constantly 'on-the-go' can take a toll on your health and harmony within your close relationships?
It can be hard to put the brakes on and have time out, especially if you enjoy the thrill of the chase in working towards a goal. If you answer yes then lookout for the early warning signs below that indicate it's time to lighten your pace:
Your emotional tone has lost its sweetness and your undertone is angry, intense, compulsive, sarcastic, or overly stubborn.
You experience anxiety, have a restless mind or worry frequently.
You experience loss of moderation in your appetites.
Your sleep becomes disturbed with difficulty going to sleep or you wake in the night and find it difficult to go back to sleep.
You are losing interest in your goals and aspirations.
If you find yourself in such a situation, STOP and consider...
Are the rewards worth what you stand to lose?
You may know how to be serious, achievement-oriented, and focused on your well-defined goals. Do you need to re-learn how to laugh and play?
Do you need to spend more time with your loved ones and nourish the love that makes all your efforts worthwhile?
Is the stress no longer worth the gains?
Ask yourself "Am I happy? Am I doing what brings a smile and makes my life seem worthwhile?"
Adopt moderation as your guide
Ensure your time management reflects what matters the most to you.
Be aware of your needs to recharge with adequate relaxation and 'downtime'. Utilise the power of Transcendental Meditation for very deep relaxation and the ultimate in recharge.
Consider taking out your diary and schedule in personal time for leisure that is uplifting, humorous, and entertaining.
To help your mind and body to rebalance

when your undertone is angry, intense or compulsive take MA3323 1 rounded teaspoon prior morning and evening meals and 2 tablets of Stress Free Emotions after breakfast and evening meals.
when life has lost its shine and you can't honestly say you are happy then take 1-2 tablets of Blissful Joy after breakfast and evening meals.
when you experience anxiety, have a restless mind or worry frequently then take Stress Free Mind 2 tablets after breakfast and evening meals and Energy Plus 1 tablet prior breakfast and evening meals.

Eat at regular intervals; starting with breakfast within one hour of rising and see how mental clarity, focus and physical energy are increased. Be sure to stop for lunch between 12 pm - 1 pm and an early evening meal by 6.30 pm to 7.00 pm. Consider scheduling a recharge break every 1.5 hours as a time to pause, sip a drink, stretch and to refocus. You will find yourself more productive when you take recharge breaks every 1.5 hours during your working day.
Be in bed by 10 pm and aim to enjoy 7-9 hours of sleep most nights.
Be sure to have a brisk walk most days for 30 minutes or more. Where you can fit it first thing or mid-morning for best results.
Wishing you the bliss of balance.
Linda Sinden has been a practising Maharishi Ayurveda Consultant since 1990 and is a regular contributor to our weekly Insights. She has a practice in Auckland, New Zealand and also provides phone or Skype sessions for those who need assistance, but don't have a consultant in their vicinity.

Email: lindasinden@orbislife.co.nz Skype: Linda.Sinden
Mobile: +64 212237525
---
Leave a comment
The Herbs in Maharishi Ayurveda Products Are Prepared in the Traditional Ayurvedic Way. 100% Natural and Side-Effect Free. Made to Naturally Restore Balance in Your Body. Buy Now!