How is your inner resilience?
Author: Linda Sinden Date Posted:11 October 2019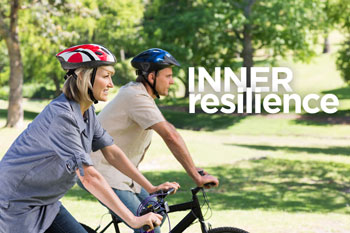 Consider the following questions. If 0 means not at all and 10 means most of the time, select how you would score yourself for each of the following questions.
Are you satisfied with how your life is going?
Are you achieving what you want to achieve in life?
Do you usually feel at peace and happy?
Do you feel rested, clear and alert when you wake in the morning and jump out of bed ready for another fulfilling day?
Does your life have a purpose or meaning that lights you up?
Are you free of past shocks or trauma that weight you down?
What my score reflects
Notice the areas in which you are resilient - scores of 7-10 and those in which inconsistency may be driving some resilience issues that come and go - scores of 4-6. Then consider the areas where you are suffering as indicated by scores of 0-3.
When you feel satisfied with where you're heading in life; when you feel positive, fulfilled with what you're achieving, connected with your inner self, and at peace, then you are experiencing inner resilience. This results in great sleep, feeling rested clear and alert when we wake, with gratitude for another day to share with those we love and to do what we enjoy or love doing. Daily life is enjoyable and rewarding and energy resources adequate for your daily activity.
There can be times when your sense of peace and well-being are tested. You may feel dissatisfied for no apparent reason, disconnected from your inner self, or feel that your life lacks adequate meaning and purpose. These are common warning signs of stress overload, and signal that it is time to pause, relax and recharge. When resourced even challenging situations can be met without losing inner resilience.
Ways to Boost my Resilience
Here are some key action steps to take to build or maintain inner resilience.
Take time to identify what you want at this stage in your life. Consider talking with others to help clarify your thoughts and options. What is important to you?
Allow the inner artist or creator to emerge - draw, write, sculpt, play, create a beautiful meal, refine your interior design, plant a beautiful garden or do whatever gets your creativity flowing.
Connect with your inner reservoir of stillness and bliss with daily practise of Transcendental Meditation.
Make small changes; focus on small, achievable goals.
Build your Serotonin levels with laughter and experiences that create awe and inspire you.
Take 2 tablets of Organic Brahmi after breakfast and evening meals to support mental clarity and resilience.
Take 2-3 tablets of Stress Relief at bedtime to strengthen your body's ability to adapt to stress.
Consider taking 1-2 tablets of Blissful Joy twice a day after meals if you feel flat or low and could do with a boost.
Heads Up
Remember to never underestimate the importance of good nutrition, exercise, sleep and a listening ear when you need one.
If you can't make it work yourself, consult a professional, a doctor, have a Maharishi Ayurveda consultation, talk to a counsellor, a minister, a nutritionist, a personal trainer or other professionals who can help you. One visit may turn your life around. The sooner you act, the better you will be!
Wishing you the bliss of balance today and always.
Linda Sinden has been a practising Maharishi Ayurveda Consultant since 1990 and is a regular contributor to our weekly Insights. She has a practice in Auckland, New Zealand and also provides phone or Skype sessions for those who need assistance, but don't have a consultant in their vicinity.

Email: lindasinden@orbislife.co.nz Skype: Linda.Sinden
Mobile: +64 212237525
---
Leave a comment
The Herbs in Maharishi Ayurveda Products Are Prepared in the Traditional Ayurvedic Way. 100% Natural and Side-Effect Free. Made to Naturally Restore Balance in Your Body. Buy Now!