Immune & Respiratory Support - The One Herb You Should Be Taking
Author: Linda Sinden Date Posted:24 September 2020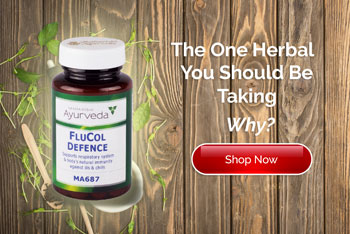 Dr Ernst Schrott, a member of the German Ayurveda Association who runs an infectious diseases outpatient clinic for over 35 years recommends clients use FluCol Defence at this time of worldwide need to help promote natural immunity to support resilience to virus and microbes and to help strengthen the body should a virus be present. Here is what he recommends:
Take 1 tablet of FluCol Defence 3 times per day.
In times of need this can be increased to 3 tablets 3 times per day.
FluCol Defence
Price: Retail is $36.95 Now less 20% $29.56
This traditional formula
Works to balance all three doshas
Helps to strengthen natural immunity
Has antiviral and antimicrobial properties
Supports clearer breathing, lung health and respiratory ease
Increases the body's ability to resist stress
Supports healthy digestion, throat and stomach comfort
Helps to soothe stomach acidity
Supports healthy functioning of the adrenal and reproductive system and improves communication between brain and gut.
Increases stamina, energy and muscle strength at all ages.

What does research say?
Published research at NCBI provides an insight into why FluCol Defence (which contains Yastimadhu (liquorice) (87%) and Ashwagandha (8%) is a herbal that you should be taking daily at the moment.
"More than 20 triterpenoids and nearly 300 flavonoids have been isolated from licorice. Recent studies have shown that these metabolites possess many pharmacological activities, such as antiviral, antimicrobial, anti-inflammatory, antitumor and other activities. This paper provides a summary of the antiviral and antimicrobial activities of licorice. " Read more here>
Helpful for every stage of life
No matter the stage of life you are at, FluCol Defence is helpful for you. It is the one herbal that we recommend everyone take at this unusual time that we find ourselves in. An old saying comes to mind … A stitch in time saves nine!
So take a moment now to order 2-3 bottles at this never to be beaten 20% Sale price.
Wishing you the bliss of balance with strong natural immunity and respiratory resilience.
Linda Sinden has been a practising Maharishi Ayurveda Consultant since 1990 and is a regular contributor to our weekly Insights. She has a practice in Auckland, New Zealand and also provides phone or Skype sessions for those who need assistance, but don't have a consultant in their vicinity.

Email: lindasinden@orbislife.co.nz Skype: Linda.Sinden
Mobile: +64 212237525
---
Leave a comment
The Herbs in Maharishi Ayurveda Products Are Prepared in the Traditional Ayurvedic Way. 100% Natural and Side-Effect Free. Made to Naturally Restore Balance in Your Body. Buy Now!