In need of a sugar destroyer?
Author: Maharishi Ayurveda Date Posted:3 October 2016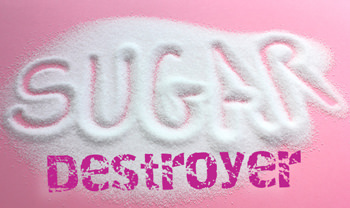 Have you ever wished that you could resist that dainty chocolate treat that sits there ever so lovely on the dessert platter?
Once a special treat, sugar rich foods are now plentiful and easily accessed in most places across the globe. As access to sweet treats has increased along with the epidemic of stress, so has weight gain and obesity. At this time of year your more close-fitting clothes may show the added layers around your middle due to the pleasure of winter's sweet foods, causing you to wonder maybe it's time to cut back a bit?
Yet reducing sugar rich foods may not be as easy as you think. Sugar addiction now sits just under the radar as an everyday occurrence for many. The ancient physicians of Ayurveda had a very effective herb for making even the most delightful chocolate taste like cardboard.
Go Gymnema
Gymnema sylvestre also called gurmar or sugar destroyer is a bitter herb from the leaves of a climbing plant from central and south India. Gymnema fills the taste bud receptors on the tongue effectively blocking the sweet taste of food and helps to reduce sugar cravings. Traditionally, Gymnema sylvestre has been used to destroy excess sugars in the body, for stomach upsets and as a diuretic.
Additionally research shows it helps the pancreas repair and produce new insulin producing cells.
The acids in Gymnema also help to block the absorption of sugar from the intestines suppressing the uptake of sugar into the blood stream. Now isn't nature smart in suppressing the elevation of blood glucose levels in this way?
It's about the combination
Maharishi Ayurveda combines Gymnema with other herbals to maximise potency and effectiveness.
1. Be Trim Tea
With herbs and spices like Gymnema Sylvestre, Fennel Seed, Cinnamon and Cardamom, Be Trim Tea is a flavorful, all-natural way to help balance fat and sugar metabolism and curb snack cravings, day or night.
2. Be Trim 1 tablets for a normal appetite or Be Trim 2 tablets for those with a sharp or excessive appetite
This potent formula of 15 herbs includes Gymnema and Malabar which help balance fat metabolism and slow carbohydrate absorption.
3. Gluco Balance
The combination of herbals in Gluco Balance assist with carbohydrate metabolism and overall digestion, help regulate and protect liver function and support normal functions that can be strained by poor sugar metabolism.

Wishing you the bliss of balance.
Linda Sinden has been a practising Maharishi Ayurveda Consultant since 1990 and is a regular contributor to our weekly Insights. She has a practice in Auckland, New Zealand and also provides phone or Skype sessions for those who need assistance, but don't have a consultant in their vicinity.

Email: lindasinden@orbislife.co.nz Skype: Linda.Sinden
Mobile: +64 212237525



---
Leave a comment
The Herbs in Maharishi Ayurveda Products Are Prepared in the Traditional Ayurvedic Way. 100% Natural and Side-Effect Free. Made to Naturally Restore Balance in Your Body. Buy Now!