Is it time for ...
Author: Linda Sinden Date Posted:10 September 2019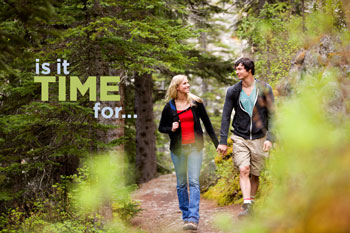 Along with the beautiful spring flowers comes a gradual increase in the warmth of our weather. It is at this time of the year that I feel the desire to exercise outside.
Maharishi Ayurveda recommends an early morning walk. Have you tried it?
Why walk first thing?
The loud morning chorus of birds singing and the stillness of the early morning provides a peaceful yet energising start to the day.
A walk first thing provides health benefits to both the mind and body. People with anxiety, depression or feeling stressed report they feel much better with a morning walk, as it helps create a positive mindset for the day.
Consider having one of the following drinks before your walk:
If you feel sluggish in the morning have a strong cup of Kapha tea.
Have a cup of ginger tea with 2-3 pinches of turmeric.
Or a drink of lukewarm water with the juice of 1 lime or ½ a lemon and 1 tsp of honey.
Wellbeing
Exercise first thing increases your circulation and supports hormonal balance. A brisk walk supports heart health as it reduces your risk of high blood pressure, heart attack and stroke. A morning walk can reduce your risk of heart disease by 40%.
Needing energy?
Taking 2-4 tablets of Premium amla berry helps to nourish your muscles, enhances physical energy, stamina and endurance and promotes mental focus and clarity.
If you often feel fatigued consider taking 2 tablets of Fatigue Free first thing when you wake. Fatigue Free includes 18 herbs and minerals to support the natural flow of mental and physical energy.
Mental sharpness
Plus you feel good! A morning walk increases mental sharpness, energy and emotional stability throughout the whole day. It also provides a way to stay in touch with close friends and family with a morning chat as we walk together.
Healthy body shape more easily
If a healthy weight is a goal for you, a regular morning walk is an effective way to reduce weight and to maintain a healthy body shape. People often report that they find a morning walk exercise program an easy behaviour to maintain long term and the ease of the morning routine helps to overcome procrastination. Have you noticed that even with good intentions it can be difficult to "do it later".. something often gets in the way!
A space for reflection
This precious 'time out' in the morning also provides a space in which you can collect your thoughts and plan your day, identifying priorities, and deciding what you will do today, and what can be done another day. I've noticed that this helps me to get more done in a day.
How long should I walk for?
Do what is comfortable for you. Breathe comfortably through your nose while exercising and aim to exercise to 50% of your capacity. This means when you return home you will feel energised and alert not tired.
Aim to exercise to the point where you are sweating on your forehead or tip of the nose.
20 minutes, 30 minutes, 40 minutes+? Do what is comfortable for you.
Stay warm if the weather is cooler and drink to stay hydrated if the weather is warmer.
Most importantly, enjoy yourself.
Wishing you the bliss of an early morning walk this week.
Linda Sinden has been a practising Maharishi Ayurveda Consultant since 1990 and is a regular contributor to our weekly Insights. She has a practice in Auckland, New Zealand and also provides phone or Skype sessions for those who need assistance, but don't have a consultant in their vicinity.

Email: lindasinden@orbislife.co.nz Skype: Linda.Sinden
Mobile: +64 212237525
---
Leave a comment
The Herbs in Maharishi Ayurveda Products Are Prepared in the Traditional Ayurvedic Way. 100% Natural and Side-Effect Free. Made to Naturally Restore Balance in Your Body. Buy Now!