Itchy nose? Hayfever?
Author: Maharishi Ayurveda Date Posted:21 November 2016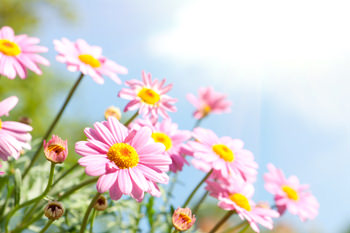 Does your nose start to itch as summer arrives?
If yes, then you may suffer from summer hayfever or allergi rhinitis which is normally related to summer grass and weed pollens. Here is a list of what is likely to cause hayfever discomfort from December to March (southern hemisphere).
December Canary Grass, Cocksfoot, Kentucky Blue Grass, Paspalum, Rye Grass, Wild Oat, Couch, Johnson Grass, Paterson's Curse, Pellitory, Plantain, She Oak
January Cocksfoot, paspalum, Rye Grass, Couch, Johnson Grass, Pellitory, Plantain, She Oak
February Annual Blue Grass, Cocksfoot, Paspalum, Rye Grass, Honhson Grass, Pellitory, Plantain, She Oak.
March Paspalum, Couch, Johnson Grass, Pellitory, She Oak

Common signs of summer hayfever
Some people experience minor discomfort while others experience debilitating symptoms. They can include runny or blocked nose or post nasal drip which frequently causes a cough. You may find yourself having bouts of sneezing frequently along with itchy, red or watery eyes.
You may also experience an itchy throat, mouth, nose and sometimes nose bleeding may occur if the condition is severe. People often talk about a loss of smell and occassionally a loss of taste. Face pain and headaches can also happen when the pressure increases in the sinus regions.
What you can do
Support your digestion. If you experience excessive bloating, wind, flatulence or reflux, then your digestion system is out of balance and will be exacerbating your hayfever.
Stabilise digestive function by
Eliminating any foods you are sensitive or intolerant to, such as egg, fish, shellfish, nuts and peanuts, gluten, milk, chocolate, wheat, citrus and food colourings.
Use the following duo of herbals to support digesiton and address the root cause.
Take Aller Defence 30 minutes prior meals 3 times a day. Aller Defence helps strengthen digestion and immunity while supporting a normal histamine responses without drowsiness or dullness.
Take Aller Breathe 1-2 tablets twice a day with water, right after breakfast and one hour after dinner to help open the micro-circulatory channels and promote resistance against allergens.
Diet
Avoid fruits from the ragweed family which are known as potential allergens: bananas, honeydew, watermelon, zucchini
An effective allergy juice is: lemon, papaya, pineapple, garlic, comfrey and wheatgrass
Increase garlic, horseradish and onions in your diet to enhance immune effect
Reduce alcohol and coffee
Favour a Pitta pacifying diet
Drink 3-4 cups of Pitta Tea per day
Lifestyle
Remove any potential grass allergens from your environment where possible
Air bedding regularly and take dust mite precaution
Take gentle exercise regularly
Avoid exposure to diesel fumes as it sensitizes the nose to pollens
Meditate it helps build immune strength and is calming in difficult situations
If you, a family member or friend suffer from the symptoms of summer hayfever be kind and send them a link to this article so they also know how to help themselves.
Wishing you ease and delight this summer.
Linda Sinden has been a practising Maharishi Ayurveda Consultant since 1990 and is a regular contributor to our weekly Insights. She has a practice in Auckland, New Zealand and also provides phone or Skype sessions for those who need assistance, but don't have a consultant in their vicinity.

Email: lindasinden@orbislife.co.nz Skype: Linda.Sinden
Mobile: +64 212237525



---
Leave a comment
The Herbs in Maharishi Ayurveda Products Are Prepared in the Traditional Ayurvedic Way. 100% Natural and Side-Effect Free. Made to Naturally Restore Balance in Your Body. Buy Now!