Linda's Immune Support Programme
Author: Linda Sinden Date Posted:19 August 2021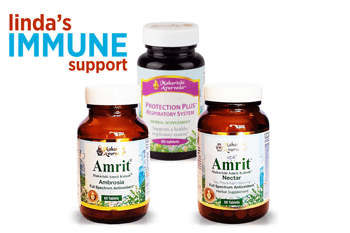 Are you considering having a vaccine or already had one? Having faced the same question, as I was scheduled to travel overseas, here is what I recommend to help prepare for the vaccine and to help post vaccine.
Take the following herbals for 1-4 weeks before and for 1 month or more following. They are best taken with a little warm water 30 minutes before breakfast and evening meals. Post vaccine, take a third dose at bedtime for a further 1 month.
Be sure to be and stay well rested.
Dietary support:

Make a point of having 3-4 sweet fruits daily.
Have a serving of leafy green vegetables (ideally cooked during winter and spring) in your lunch and evening meals.
Take 1-2 handfuls of nuts daily.
Favour foods high in zinc and magnesium.

To reduce respiratory stress, have your main quantity of food at lunch time when you can digest it more easily and a lighter evening meal by 6.30pm. Avoid ice cold, frozen or canned foods and drinks. Favour fresh foods freshly prepared where you can.
Be grateful, laugh, smile and do what you enjoy, daily.
Wishing you a smooth vaccine transition.

All the best,
Linda and the Get Balance Team

Linda Sinden has been a practising Maharishi Ayurveda Consultant since 1990 and is a regular contributor to our weekly Insights. She has a practice in Auckland, New Zealand and also provides phone or Skype sessions for those who need assistance, but don't have a consultant in their vicinity.

Email: lindasinden@orbislife.co.nz Skype: Linda.Sinden
Mobile: +64 212237525
---
Leave a comment
The Herbs in Maharishi Ayurveda Products Are Prepared in the Traditional Ayurvedic Way. 100% Natural and Side-Effect Free. Made to Naturally Restore Balance in Your Body. Buy Now!