Merry Xmas
Author: Linda Sinden Date Posted:22 December 2018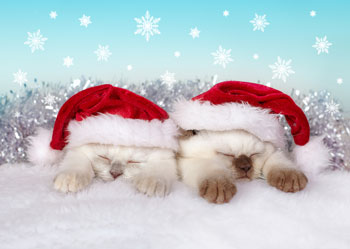 Tomorrow will be Xmas day and all of us at Maharishi Ayurveda in NZ wish you a special day with memories to cherish going forward. Here are some tips to help you make the most of the festive season over the coming days.

Being present is the best present
When a person is interested, attentive and completely present, it is a real gift. Sometimes amidst the giving of presents we miss the most important gift we can give to each other, our love and attention.
This reminds me of a recent experience with my 3 year old granddaughter. I was driving her over to a family members 80th birthday recently and she remarked. Oh no, I haven't made them a birthday present. My reply was, That's okay. A hug can be a special gift too.
Later that day, her mother told me that she had taken her hand and gone over to my brother-in-law Don and sat on his knee and given him a very big hug! The next day Don commented on how delightful she had been.
Be Easy
If you are thinking about creating the 'perfect Christmas' it can take you out of the moment and create a load of pressure upon you. So be easy… the most important thing is for you and your family and friends to have fun. If things don't go exactly as you planned, it's not the end of the world. If you are hosting the Christmas day meal ask others including the children to help out. Give them a clear task to do and remember to say thank you when it is done. After the meal if you have made the meal then stay seated and let others do the washing up. You have earned your rest!
Give Gratitude
Be sure to thank the cooks and shower them with appreciation for the beautiful tastes and aromas. Be effusive and generous with your compliments. Don't stop there.. look about and see what else you can give gratitude for. Giving gratitude is healing to the feeling level and helps to balance Sadhaka Pitta (the heart or feeling level) and Prana Vata (mind or brain).
Stay Calm
Coming together for a meal especially at Xmas or New Year can be fraught with undercurrents and tensions even with loved ones and close friends. Sometimes we celebrate, sometimes there is a loss within the group when a loved one has passed, a couple have parted or divorced, or a loved one is sick and unable to attend. Sometimes we are just tired at the end of a busy and demanding year. Or we may be dealing with some illness ourselves. No matter the situation take a moment to celebrate the intention of Xmas, the message of love within a loving community and look past the tensions to uplift and be uplifted.
Personally I take 2 tablets of Stress Relief at bedtime to help adapt to stress and build resilience.
Top this up with a dessertspoon of Pitta Rasayana prior breakfast and evening meals or meditations during summer. This tasty herbal helps to balance all the sub areas of Pitta with a special attention on Sadhaka Pitta (heart and feelings). Pitta Rasayana helps to promote healthy body temperature, blood pressure and breathing. Helps to ease agitation in the mind and a sore tummy. It supports strength and assimilation of food.
Keep the Fire of Digestion burning brightly!
If you have a tendency for a sluggish or changeable digestion then the festive season may be challenging for you. If so here are some suggestions to help you gain optimal nourishment from your food.
Consider having 1-2 tablets of Digest Tone before your meal to aid digestion, as we often eat more quantity and richer foods during the festive season. Take Digest Plus 1-2 tablets after the meal to ensure the second stage of digestion is optimal.
Or for a home remedy mix equal parts of ginger powder, black pepper and white pepper and take 1/4 to 1/2 a teaspoon at the start of the meal with a little warm water or sprinkled over a portion of your meal and eaten within the first third of the meal.
After the meal take a warm tea made from fennel seed and root or powdered ginger. Place 1 tsp of fennel seeds and ½ to 1 tsp of grated ginger or ¼ tsp of ginger powder in a cup of boiling water. Let it steep for 5-10 minutes and then sip and enjoy!
After eating sit for 10 minutes. Then take a gentle stroll for 20 minutes to aid digestion. Being gently active at this time aids digestion and also allows you to chat and catch up with friends and family.
Wishing you the bliss of balance and a happy festive season.
Linda Sinden has been a practising Maharishi Ayurveda Consultant since 1990 and is a regular contributor to our weekly Insights. She has a practice in Auckland, New Zealand and also provides phone or Skype sessions for those who need assistance, but don't have a consultant in their vicinity.

Email: lindasinden@orbislife.co.nz Skype: Linda.Sinden
Mobile: +64 212237525
---
Leave a comment
The Herbs in Maharishi Ayurveda Products Are Prepared in the Traditional Ayurvedic Way. 100% Natural and Side-Effect Free. Made to Naturally Restore Balance in Your Body. Buy Now!