Mutant Covid viruses - what to do!
Author: Linda Sinden Date Posted:21 January 2021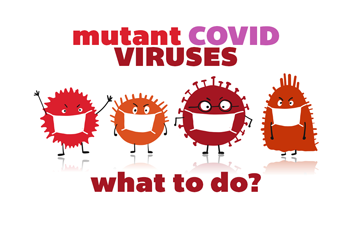 Today I read about research which has shown that Covid mutations are making the vaccines less effective for some. Also there are concerns being voiced that further mutations are likely and the result of such mutations are unknown. Scary!
While being truly grateful that we are in a protective bubble in the South Pacific we are not naive. Should one person get through our border quarantine without being identified as having a mutated strain of Covid, then the more infectious mutated viruses now seen becoming rampant overseas could explode into our community. However, Ayurveda has some wisdom to help us navigate through these trying times.
What can we do?
Ayurveda explains that we can strengthen our immunity so that foreign invaders have no fertile ground upon which to rest and seed. Ayurveda has made a science of combining herbs and fruits to fortify and strengthen the immune system and promote holistic wellbeing. Such a fortified immune system Ayurveda explains has the power to resist viruses and bacteria.
Therefore today I want to tell you about two herbal combinations that are potent immune boosters. Bio Immune and the Amrit Kalash Duo are a powerful defence force for maintaining wellbeing while also helping to support a robust immune system. If budget allows, take both of these formulas. If you need to choose then read their description to see what will meet your needs best at the moment.
Bio Immune (MA1000)
Take 1-2 tablets after breakfast and at bed time.
This fantastic formula takes six months to prepare. It combines purifying herbs that help to detoxify the blood and promote cellular regeneration with nourishing minerals such as mica, zinc and pearl. Why eliminate toxins? Ayurveda explains toxins weaken the immune system. When toxins are reduced liver function and natural immunity are boosted.
This powerful formulation includes ashwagandha, holy basil (Tulsi) and Gotu kola, which not only helps to support immunity but also increases resistance to stress and promotes balance of Vata, Pitta and Kapha. This is very helpful as it also helps one maintain balance during Summer time too.

Amrit Kalash Nectar and Ambrosia
To maintain wellness we all need a healthy body, mental balance along with refined awareness and the regular experience of feeling happy! The Amrit Kalash duo provides a formulation that balances all these needs. Amrit Kalash belongs to the category of herbals in Ayurveda called Rasayana. A Rasayana supports the mind and body at its innermost essential level. Amrit is a two-part formula. This unique blend of over 40 herbs and fruits have potent antioxidant properties and the enduring health promoting qualities of Amrit Kalash are very much needed by each of us currently. The two-part formula includes
Amrit Kalash Nectar
Take 1 tablet twice daily on an empty stomach with a sip of milk or water.
Child dose is half the adult dose.
Amrit Kalash Nectar enlivens the underlying intelligence in the body. It provides a powerful strengthening and balancing effect on the heart, mind and immune system.
Amrit Kalash Ambrosia
Take 1 tablet twice daily on an empty stomach with a sip of milk or water.
Child dose is half the adult dose.
Amrit Kalash Ambrosia targets the brain, nervous system and mental function. It helps support refined awareness, creativity, mental balance and happiness.
So take a moment and do something to help protect you and your loved ones today.

Wishing you a strong robust immune system today and always.
Linda Sinden and the Get Balance Team
Linda Sinden has been a practising Maharishi Ayurveda Consultant since 1990 and is a regular contributor to our weekly Insights. She has a practice in Auckland, New Zealand and also provides phone or Skype sessions for those who need assistance, but don't have a consultant in their vicinity.

Email: lindasinden@orbislife.co.nz Skype: Linda.Sinden
Mobile: +64 212237525
---
Leave a comment
The Herbs in Maharishi Ayurveda Products Are Prepared in the Traditional Ayurvedic Way. 100% Natural and Side-Effect Free. Made to Naturally Restore Balance in Your Body. Buy Now!