My Favourite Places
Author: Linda Sinden Date Posted:23 May 2019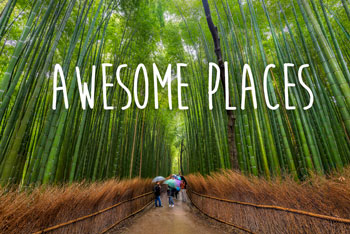 We all have favourite places which inspire us, and to which we feel connected. Such places can positively affect our mental health and wellbeing - individually and collectively.
These places are very personal. A wide open space in nature may create a sense of freedom and peace for one person, while making another person feel anxious or lonely. Likewise, a built-up enclosed area in an urban setting may make one person feel safe and part of a community, while another person may feel hemmed in and claustrophobic there. The key is to find places and spaces that bring you a sense of peace and well-being.
You may like to choose a range of places as different settings will suit different moods and bring different benefits. Some excite and ignite the imagination; others calm the mind or soothe the soul, while others expand the heart.
Where to find these places?
In nature: beaches, the sea, lakes, rivers, forests, hills, the sky.
In art and architecture: art galleries, museums, suburban churches, great cathedrals, concert halls, public spaces.
Promise yourself that every day this winter you will see something new in your surroundings. You will be amazed to discover what awesome places and awesome spaces there are, indoors and outdoors, natural and man-made - right on your doorstep!
Consider taking on a challenge to find something new to do each day this week.
Go to work or to your local shopping centre a different way this week.
Ring up a school friend you haven't spoken with for a while, or maybe for a long time, get connected.
Mix up your exercise routine by trying a new form of exercise this week.
Set aside some time to try a new recipe and delight yourself and others with some new tasty delights!
Take your partner or friend out to somewhere new, as a surprise.
Book a holiday to a new destination.
Review your local walkways and bush walks and schedule time to try a new walkway.
And what else could you do?
My Favourite Herbals
What are your favourite herbals? Favourite herbals I define as being the ones you take regularly, often daily and wouldn't be without! Why do they become a favourite? For me, it was because they have consistently given me the support I need to live life fully while staying healthy and happy. Would you like to know my favourites?
My top favourites during winter are: Stress Relief (MA 686), Digest Tone, Vata Tea, Vata Seasonal Spice Mixture and Vata Massage Oil.


Stress Relief
This powerhouse of a herbal contains two super herbs
Ashwagandha is traditionally known to impart vigour, strength and is a restorative. It is one of the most powerful herbs in Ayurveda. It is an adaptogen which means it helps the body handle day to day stress effectively by supporting lower levels of the stress hormone cortisol. This bonus of lower stress levels and increased vigour and strength in turn helps nourish the nervous system and immunity.
Shatavari also known as Asparagus racemosus provides a nourishing and grounding effect and is considered a rejuvenative for the reproductive system, the digestive system and the blood.
I take 2-3 tablets of Stress Relief at bedtime so that it provides a gentle slip into relaxation prior sleep along with a nourishing effect upon my body and mind while I am sleeping. It is like a daily tonic that I value deeply.
Oganic Digest Tone
Digest Tone supports digestion and assimilation during the colder months when digestion benefits from this support. It also supports healthy cholesterol levels, improves circulation, helps to protect the cardiovascular system and aids balanced blood pressure balance. It is a high quality antioxidant that supports liver function and enhances immune strength.
Take 1 tablet prior meals breakfast and lunch and 2 tablets prior your evening meal.
Organic Vata Tea
Calming Organic Vata Tea has a sweet, mellow, warm and calming flavour. It helps reduce or remove gas during eating, after a meal and throughout the day and creates a comfortable, relaxed, balanced and happy feeling within.
Drink 1 cup of Vata tea after each meal or snack. Place 1 tea bag in a 1.5 L flask with boiling water. Pour a cup and sip regularly through the day.
Organic Vata Seasonal Spice Mix
This tasty Vata spice mix or churna, supports digestion, helps to reduce gas and bloating and supports better elimination. It contains anti-inflammatory ginger and turmeric. Turmeric provides immune and allergy support and is skin purifying. It also makes the food taste really delicious too! Sprinkle over your savoury meals at lunch and dinner or use in the cooking process.
Organic Vata Massage Oil
Applying this deeply soothing organic herbalised oil over the body and following it with a luxurious bath is heaven! Or if time is short, then a shower is good too. This organic oil helps to balance dryness with it's combination of moisturising Ayurvedic herbals for dry skin, helping to curb premature aging, lubricating the joints and calming the mind. It's a must during the Winter season!
FluCol Defence
This all-round tonic supports immunity of the respiratory system helping the body to ward off bugs during winter time. To keep strong during winter take 2 tablets 30 minutes before breakfast and evening meals.
Wishing you the bliss of balance this Winter Season.
Linda Sinden has been a practising Maharishi Ayurveda Consultant since 1990 and is a regular contributor to our weekly Insights. She has a practice in Auckland, New Zealand and also provides phone or Skype sessions for those who need assistance, but don't have a consultant in their vicinity.

Email: lindasinden@orbislife.co.nz Skype: Linda.Sinden
Mobile: +64 212237525
---
Leave a comment
The Herbs in Maharishi Ayurveda Products Are Prepared in the Traditional Ayurvedic Way. 100% Natural and Side-Effect Free. Made to Naturally Restore Balance in Your Body. Buy Now!