Need to get up and get moving?
Author: Maharishi Ayurveda Date Posted:14 December 2015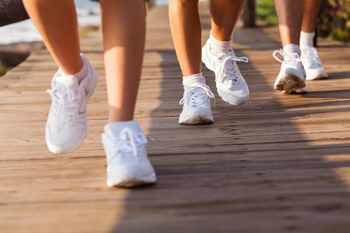 Is your idea of exercise lying on the sofa, punching buttons on the TV remote? If so you're in trouble.
Exercise is not to be feared. Exercise is a habit. Far more dedicated couch potatoes than you'll ever be have turned themselves into healthy, fit, happy people - all through a bit of regular exercise.

Why bother?
Regular exercise helps you feel in control. It promotes wellbeing and relaxation. It cleanses the body of adrenaline. It helps lower blood pressure and relaxes tight muscles. It helps clear the head. You'll feel heaps better. You'll look heaps younger. You'll be heaps happier!
Just 30 minutes of light to moderate daily exercise can improve your ability to handle and reduce stress, anxiety and depression.
An easy start
We are not expecting you to run a marathon, swim the English Channel or row around Australia. All we're asking is to get up and start. Build up slowly and aim to do 30 minutes of exercise every day - and it doesn't have to be done all at once.
Here's your prescription: Take three doses of exercise daily. Three "snacks" of 10 minutes activity. You don't even have to puff and sweat to benefit. You just need to take the first step.

Or if you feel able to do more then let's start walking for half an hour in the morning before work with your face in the sun. What could be nicer?

If you prefer the evening, fine. A gentle 30 minutes walking in the moonlight clears the stress of the day before bed. Perfect!

The 21 Day Principle: go walking for 21 consecutive days and you will have formed the habit. Try it. You'll love it!
Need some energy to help get started?
Premium Amla Berry is our key energising and rejuvenative herb and it is good for both men and women. It helps build vitality, strength and endurance both mentally and physically.
Get the benefits of Amla in an affordable package in the Premium Amla Berry formulation. Or give yourself a real boost by taking Amrit Kalash Nectar and Ambrosia together for 1-3 months and see how they help your mental and physical energy to soar.
But don't wait three months, get up and start walking today!
Wishing you the bliss of an energized mind and body.
Linda Sinden has been a practising Maharishi Ayurveda Consultant since 1990 and is a regular contributor to our weekly Insights. She has a practice in Auckland, New Zealand and also provides phone or Skype sessions for those who need assistance, but don't have a consultant in their vicinity.

Email: lindasinden@orbislife.co.nz Skype: Linda.Sinden
Mobile: +64 212237525
---
Leave a comment
The Herbs in Maharishi Ayurveda Products Are Prepared in the Traditional Ayurvedic Way. 100% Natural and Side-Effect Free. Made to Naturally Restore Balance in Your Body. Buy Now!