"No 1" - Best Seller Sale
Author: Linda Sinden Date Posted:28 August 2020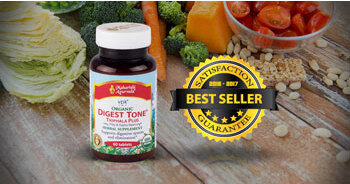 The one product I would want with me should I find myself isolated on a desert island is Digest Tone. As Digest Tone is our "No 1" Best Seller, then it is likely that you already know the amazing benefits of Digest Tone from personal experience.
This week Digest Tone 60 tablets and Digest Tone Organic 250 tablets are on sale giving you a 15% SAVING.
Digest Tone ticks so many boxes it is recommended all year around for every body type. It is considered a Rasayana which is a very special group of herbs or formulations which get to the very deepest levels of your tissues helping to cleanse, rejuvenate, nourish and support natural immunity and longevity.
Heads up
Have you been feeling sluggish, dull, get coughs or colds easily, low in mood, constipated or suffering from irritable bowel, with skin breakouts, menstrual cramps, fatigue, feelings of sadness? These and many other health issues Ayurveda explains can be linked to the build up of toxins when digestion and elimination are out of balance.
Digest Tone as the name suggests works it's magic by keeping your digestive system and elimination in tip top shape. It is often referred to as your daily detox!
Why Digest Tone is "No 1"
This high quality antioxidant provides many wide ranging benefits helping to
Tone the muscular wall of your gut
Support the health of your intestinal skin and villi - your biome
Boost the removal of mucus and toxins from the wall of the gut
Increases absorption of nutrients
Restore daily bowel movements where needed
Balance the build up of acidity in the intestines
Support the healthy formation of our skin, eyes and hair
Enhance the coordination between the heart and the breath supporting healthy function of the brain, head, chest, respiration, senses and mind due to the addition of Cabbage Rose
Support the effectiveness of all other herbals
Balance vata, pitta and kapha
About the Ingredients
Ayurvedic physician Charaka says
Haritaki is as nourishing as mother's milk. It helps to enhance absorption of nutrients, and the cleansing of the micro and macro circulatory system.
Amalaki is the best among rejuvenating herbs and
Bibhitaki is excellent for balancing and nurturing the vocal cords, antibacterial and a tonic for the eyes.
Classical Ayurvedic text on surgery called Sushruta Samhita says
haritaki and triphala are useful for cleansing wounds and supporting rejuvenation of the insides.
bibhitaki helps to purify the blood and to maintain healthy blood clotting.
How do I take it?
One hour before bed take 1-3 tablets of Digest Tone with a little warm water. If you have a tendency for softer bowel motion take 1 tablet. If you have less than 1 bowel motion a day or find it difficult to pass a motion then take 2-3 tablets.
Stock Up while on Special
So this week reward yourself with a 15% SALE on Digest Tone 60 tablets and Digest Tone Organic 250 tablets formulations.
Wishing you the bliss of balance today and always.
Linda Sinden and the Get Balance Team.
Linda Sinden has been a practising Maharishi Ayurveda Consultant since 1990 and is a regular contributor to our weekly Insights. She has a practice in Auckland, New Zealand and also provides phone or Skype sessions for those who need assistance, but don't have a consultant in their vicinity.

Email: lindasinden@orbislife.co.nz Skype: Linda.Sinden
Mobile: +64 212237525
---
Leave a comment
The Herbs in Maharishi Ayurveda Products Are Prepared in the Traditional Ayurvedic Way. 100% Natural and Side-Effect Free. Made to Naturally Restore Balance in Your Body. Buy Now!