Recommit to Being Healthy in 2020
Author: Linda Sinden Date Posted:8 January 2020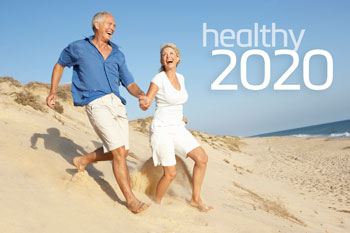 Recently I was asked what I would recommend as a new years resolution to support optimal wellbeing in 2020. This leads me to enquire is it time for you to take care of yourself? If so consider...
What do you want to create?
What obstacles will you need to overcome?
What has worked for you in the past when you wanted to prioritise your health?
If it is time for you to take care of yourself, then here are some pointers to help you get started.
1. Complete the free online Ayurvedic health test
The Test Your Health quizz identifies your current imbalance of Vata, Pitta and Kapha. It then provides a report including dietary, lifestyle and recommended herbals. It may surprise you!
2. Choose your Goal
Knowing where you want to get to is a useful way to start a journey! Be descriptive as you it down and consider illustrating it with inspiring images and colour. The more senses you involve in the process of envisioning your goal the more helpful it is. Check to ensure it is realistic so you can stay with it.
3. Work out your obstacles and how you can overcome them.
What are the obstacles that usually come up for you that get in the way of taking steps to enhance your wellbeing? Think about what you would like to do and then note what your self talk is about what will get in the way… I don't have time… I don't have the right shoes… I'm not sure what will be best for me? (if so, complete the Test Your Health free questionnaire to see what would be best for you, and then you can choose what to do.)
What comes up for you? Think about how you can overcome these obstacles in fun and creative ways. For example if you want to walk regularly ask a friend to join you and see how easy and enjoyable it is to walk regularly.
4. Embrace the daily routine ritual of Maharishi Ayurveda.
It is the daily choices that we make that overtime determines our health and wellbeing. Often the little changes can have a big impact overtime. Ayurveda provides an ideal daily routine which provides a structure for the day and helps one live in tune with nature's rhythms. See what the priority actions are for you in your Test Your Health report. Or if you already follow the Ayurvedic Daily Routine then consider which part of the day could do with some attention. Is it the morning routine, evening routine or is it your lunch time habits?
5. Be Flexible
Be prepared to be flexible and to move with the seasons and your changing needs. Being flexible is key to reaching your goal.
6. Helping Hand
Consider taking the herbals recommended in your Test Your Health report. They are targeted to your needs at the moment. If you feel your pretty balanced right now then consider taking the Amrit Kalash duo.


Amrit Kalash - A Superstar
Amrit is a two-part formula that is called a Rasayana in Ayurveda. Rasayana supports the mind and body at its innermost essential level. Taken together this two part formula provides a widespread and synergistic antioxidant effect. It includes
Amrit Kalash Nectar which enlivens the underlying intelligence in the body. It provides a powerful strengthening and balancing effect on the heart, mind and immune system.

Amrit Kalash Ambrosia which targets the brain, nervous system and mental function. It helps support refined awareness, creativity, mental balance and happiness.

The research literature makes it clear why Maharishi named the Amrit Kalash formulas the Nectar of Immortality. People who take Amrit report that they feel happier, are more resilient to stress, feel more alert with improved creativity and less fatigue. In addition they report that they have more energy and feel greater inner calm.
Wishing you the bliss of balance and great success with your new year resolutions this 2020.
Linda Sinden and the Get Balance Team
Linda Sinden has been a practising Maharishi Ayurveda Consultant since 1990 and is a regular contributor to our weekly Insights. She has a practice in Auckland, New Zealand and also provides phone or Skype sessions for those who need assistance, but don't have a consultant in their vicinity.

Email: lindasinden@orbislife.co.nz Skype: Linda.Sinden
Mobile: +64 212237525
---
Leave a comment
The Herbs in Maharishi Ayurveda Products Are Prepared in the Traditional Ayurvedic Way. 100% Natural and Side-Effect Free. Made to Naturally Restore Balance in Your Body. Buy Now!