Reduce weight and SAVE
Author: Linda Sinden Date Posted:1 October 2020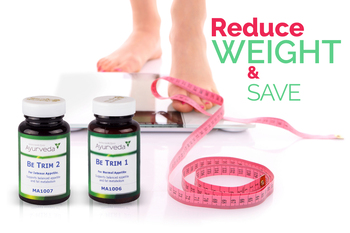 With the promise of Summer just around the corner you may find yourself thinking it is time to lose those 2-3 kilos you put on over winter or lockdown, or want to address a longer term weight gain now. If so, Maharishi Ayurveda has just the right combination of herbal and lifestyle tips to help you get started.

If you gain weight easily and have a normal appetite then Be Trim 1 is best for you. The key herbs Gynema, Malabar, Guggul, Zinc Bhasma help support fat metabolism, healthy cholesterol levels and slows carbohydrate metabolism to support healthy weight reduction. Then tinospora, sarsaparilla, nutgrass and cumin are added to help boost digestion and to enhance your assimilation of nutrients.

If you have a sharp appetite along with weight gain then Be Trim 2 is best for you. The key herbs in Be Trim 2 Indian sarsaparilla, Spreading hog-weed and Prickly chaff flower are used traditionally to enhances metabolic processes that enhance weight loss, enhance fat metabolism and carbohydrate metabolism, detoxify the body, support healthy cholesterol production and assists with hyperacidity or healthy digestive function.
What Theresa said...
With clean eating, exercising 2-3 times a week, and taking Be Trim tablets as per instructions combined with Digest Tone I saw a gradual decrease in my weight over 6 weeks, then I hit a plateau - my weight remained constant without further loss. On advice, I doubled the dose of both tablets and the weight decrease continued. I have now lost 8.5kg over 8 weeks. Consistency is key, along with taking your prescribed dosage each day"
Lifestyle Tips
As weight gain indicates a surplus of Kapha qualities, here are some key lifestyle choices you can make to help balance the Kapha dosha within you.

Early to Bed by 10 pm and Avoid Day Sleep

Get up by 6am and Exercise first thing - aim to break a sweat and favour activities you enjoy.

Eat Your Main Meal at 12 Noon as you will digest it best and experience less cravings later in the day.

Favour Kapha Balancing Foods>

Take Be Trim 1 or Be Trim 2 and Digestive Tone 2 tablets 1 hour before bedtime.
Wishing you the bliss of balance and the delight of a body shape you enjoy!
Linda Sinden and the Get Balance Team.
Linda Sinden has been a practising Maharishi Ayurveda Consultant since 1990 and is a regular contributor to our weekly Insights. She has a practice in Auckland, New Zealand and also provides phone or Skype sessions for those who need assistance, but don't have a consultant in their vicinity.

Email: lindasinden@orbislife.co.nz Skype: Linda.Sinden
Mobile: +64 212237525
---
Leave a comment
The Herbs in Maharishi Ayurveda Products Are Prepared in the Traditional Ayurvedic Way. 100% Natural and Side-Effect Free. Made to Naturally Restore Balance in Your Body. Buy Now!