Sore Back? Help!
Author: Linda Sinden Date Posted:25 March 2021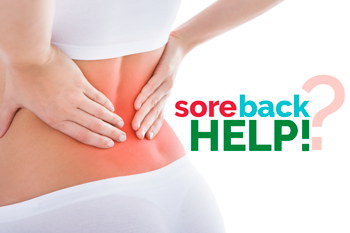 Most people (80%) experience back pain at some stage in life. The cause of back pain Ayurveda explains starts with weakened digestion that causes a buildup of ama (toxins from incomplete digestion). This waste product combines with Vata (Pitta and Kapha) and moves about the body accumulating in the minute channels of the body, leading to back ache. Other factors may contribute to the imbalance such as stress, injury, menstruation or illness.

What about my pain?
Ayurveda defines the type of back pain according to the dosha(s) that have become imbalanced. Which of the following best describes your back pain?
Vata back pain is typically sharp, throbbing, changeable in pain level and location and is felt more on the surface of the body.
Kapha pain is dull, aching and stays in one place. It takes 6 to 24 hours to reach full intensity and can last for several days at a time. It peaks in the evening and morning. It tends to be located deep in the body.
Pitta back pain is often described as burning, intense and lancing with increased intensity over 1-2 hours, peaking around midday or midnight. It is often felt in the middle of the body.
The following programme includes 3 powerfull herbal formulas which are traditionally used to help bring ease to an aching or sore back.
Help! Inside and Out
Take Joint Assist
Take 1-2 tablets 30 minutes before break and evening meals.
Joint Assist helps to clear toxins and supports healthy joint and muscle function. The potent herbs in this traditional formula provide a three-fold action:
Guggul and Tinospora in combination support cleansing of fat tissue, bones and joints.
Shilajit, Aswagandha and Indian Asparagus provide nourishment to support long-term bone and joint health
Aswagandha, Indian Asparagus and Ajowain support joint mobility.
Apply Joint Soothe II Oil
Apply over a sore area 2-4 times a day followed with warmth where comfortable.
Joint Soothe II Oil is a potent massage oil with over 79 Ayurvedic herbs that helps with discomfort and inflammation associated with joint and muscle imbalance. The light penetrating quality of this oil along with the cleansing qualities makes this oil stand out as being particularly helpful.
Take Digest Tone
Take 2-4 tablets 1 hour before bed daily
Triphala (a famous compound of the three fruits Amlaki, Haritaki & Bibhitaki) is a power tonic for digestion and general health. It helps to enhance circulation and includes capillary strengthening flavonoids while supporting the liver and helping the body gently detoxify. It is antioxidant rich and supports the body's anti-inflammatory response which is very helpful when one has a sore back.

As weakened digestion needs to be addressed, aim to eat your largest meal of the day at lunchtime when you can digest it more easily. Favour fresh foods, freshly prepared and avoid leftovers, canned or frozen foods or foods from the refrigerator. Include ginger, cumin, turmeric and black pepper in your diet to aid digestion and help reduce inflammation.
Wishing you ease and comfort today and always with the potent support of these powerful and amazing herbs.
Linda Sinden and the Get Balance Team
Linda Sinden has been a practising Maharishi Ayurveda Consultant since 1990 and is a regular contributor to our weekly Insights. She has a practice in Auckland, New Zealand and also provides phone or Skype sessions for those who need assistance, but don't have a consultant in their vicinity.

Email: lindasinden@orbislife.co.nz Skype: Linda.Sinden
Mobile: +64 212237525
---
Leave a comment
The Herbs in Maharishi Ayurveda Products Are Prepared in the Traditional Ayurvedic Way. 100% Natural and Side-Effect Free. Made to Naturally Restore Balance in Your Body. Buy Now!