Strong Immunity as We Age
Author: Linda Sinden Date Posted:1 March 2021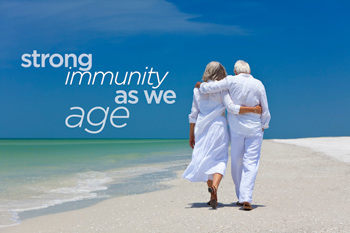 With the latest 'round-robin' back into Level 3, I am both grateful for the cautious response of Jacinda and her team, while also concerned about the increased challenges posed by the new variants of COVID19.
In the face of such challenges I am brought back to how important it is to actively support the strength of our immune systems by increasing the formation of Ojas - a substance ancient Ayurvedic physicians explained is essential for strong immunity. Fortunately Ayurveda has a special branch of herbals called Rasayanas designed to do just that. Plus there are 'tried and true' lifestyle recommendations for enhancing your production of Ojas too.
So this week I want to give you my 5 top recommendations for strong immunity no matter your age:
Take Amrit Kalash Nectar and Ambrosia, a potent Ayurvedic Rasayana twice a day for the next 3 months minimum.
This potent formula is traditionally used to:
Enhance the body's resistance to infections and disease, and promote longevity
Modern research shows the formula can help strengthen the production of immune cells
Helps limit reduced immune function due to aging
Plus the formula supports heart health, improves mood, strengthens mental functions and much more
Is a potent free radical scavenging formula that is 500-1000 stronger than Vitamin C and E (weight for weight)
If wanting to do just one thing to help protect and support yourself at this time I would strongly recommend you take Amrit Kalash Duo daily for the next three months. There is also a sugar free option available.
Amrit Duo - Longevity Club - Sugar Free
Be in bed by 10 pm and rise with the sun.
Have a walk as the sun is rising.
Reset your mind and body with the deep rest and rejuvenation transcending provides - Practise Transcendental Meditation daily.
Prioritise fresh foods, freshly prepared and eat lightly in the evening at least 3 hours before bedtime.
To aid digestion and elimination of impurities take Digest Tone 2 tablets one hour before bed. Digest Tone is one of our top sellers and with good reason, clients find it very effective.

About the Longevity Club
In our commitment to your wellbeing we give all Longevity Club members a 15% discount on a three month supply of the Amrit Duo. This is a whopping saving of over $80!
Amrit Duo - Longevity Club - Sugar Free

Wishing you and your family strong immunity and peace of mind.
Linda and the Get Balance Team
Linda Sinden has been a practising Maharishi Ayurveda Consultant since 1990 and is a regular contributor to our weekly Insights. She has a practice in Auckland, New Zealand and also provides phone or Skype sessions for those who need assistance, but don't have a consultant in their vicinity.

Email: lindasinden@orbislife.co.nz Skype: Linda.Sinden
Mobile: +64 212237525
---
Leave a comment
The Herbs in Maharishi Ayurveda Products Are Prepared in the Traditional Ayurvedic Way. 100% Natural and Side-Effect Free. Made to Naturally Restore Balance in Your Body. Buy Now!