The Healing Power of Touch
Author: Linda Sinden Date Posted:5 November 2019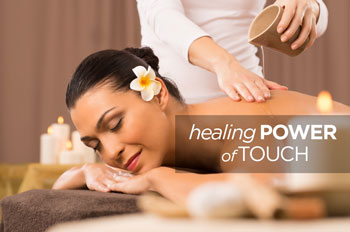 "When we honestly ask ourselves which person in our lives means the most to us, we often find that it is those who, instead of giving advice, solutions, or cures, have chosen rather to share our pain and touch our wounds with a warm and tender hand" - Henri Nouwen.
Touch to heal is instinctive, and part of what makes us human.
Ayurveda has understood both the need and the power of massage for hundreds of years. It is used daily to support health, strength and resilience and periodically within Panchakarma an in-depth cleansing programme. A daily self-massage (Abhyanga) is an excellent way to soothe the two master systems of the body - the nervous system and the endocrine system. And it feels great too!
Ayurveda carefully considers the oils or substances used when massaging the body and provides tailored recommendations on what herbalised massage oil to use based on your dosha or current imbalance.
Our Massage Oils are BDIH Certified Natural. This is the European Standard BDIH Certified Natural Cosmetic seal which recognises products containing all-natural ingredients (including plant oils, herbal extracts and essential oils) that have been carefully harvested sustainably and manufactured using socially responsible practices
Cured organic sesame oil base
No animal ingredients
No artificial fragrances
All-natural ingredients
What is the best massage oil for me?
If you are a Vata type or currently experiencing Vata imbalance then soothing and calming Vata Massage oil is best for you. Give yourself a self-massage before your morning shower or bath 5-7 days a week.
Ingredients in Vata Massage oil include organic cured Sesamum Indicum (Sesame) Oil, Cymbopogon Schoenanthus (Lemongrass) Oil, Withania Somnifera (Ashwagandha) Extract, Mimosa Pudica (Sensitive Plant) Extract, Sida Cordifolia (Heart-leaf Sida) Extract and Convolvulus Pluricaulis (Shankhpushpi) Extract.
If you are a Pitta type or currently experiencing Pitta imbalance then Pitta Massage oil is best for you. Give yourself a self-massage before your morning shower or bath 4-5 days a week.
Ingredients in Pitta Massage oil include organic cured Sesamum Indicum (sesame) seed oil, Cedrus Deodora (deodar cedar) Heartwood oil, Pinus Roxburghii (Chir Pine) oil, Vetiveria Zizanoides (Vetiver) Root Oil, Nymphaea Stellata (Waterlily) flower extract, Vetiveria Zizanoides (Vetiver) root extract, Imperata Cylindrica (Imperata) Root extract, santalum album (sandalwood) heartwood extract.
If you are a Kapha type or currently experiencing Kapha imbalance then Kapha Massage oil is best for you. Your skin is naturally moist and can have a gentle oily sheen, therefore you need to do a self-massage less often.
Ingredients in Kapha Massage oil include Organic Cured Sesamum Indicum (Sesame) Oil, Cymbopogon Nardus (Citronella) Oil, Inula Racemosa Extract, Hemidesmus Indicus(Indian Sarsaparilla) Extract, Cyperus Rotundus (Nutgrass) Extract, Albizia Lebbeck (East Indian Walnut) Extract and Nardostachys Jatamansi (Musk Root) Extract.
What are the benefits of massage?
Physical benefits of regular massage are:
Helps relieve muscle tension and stiffness
Promotes deeper and easier breathing
Improves circulation of blood and movement of lymph fluids
Reduces blood pressure
Strengthens the immune system
Provides greater joint flexibility and range of motion
Fosters faster healing of strained muscles and sprained ligaments
Reduces pain, swelling and formation of excessive scar tissue after Injury
Reduces muscle spasms
Enhances athletic performance
Helps relieve tension-related headaches and effects of eye-strain
Enhances the health and nourishment of skin
Improves posture
Alleviates discomfort during pregnancy
Treats musculoskeletal problems"
Post-operative rehabilitation

Psychological benefits of regular massage are:
Helps relieve mental stress
Promotes a relaxed state of mental alertness
Improves ability to monitor stress signals and respond appropriately
Enhances capacity for calm thinking and creativity
Emotional benefits
Reduces levels of anxiety
Satisfies the need for caring, nurturing touch
Fosters a feeling of well-being
Enhances body awareness
Modern research about massage
For many years there was much debate about whether studies involving touch or massage could reach the 'gold standard' of scientific research, which includes placebo-controlled and double-blind clinical trials. This changed in 2007 when Canadian researcher Michael Meaney at McGill University was named a Knight of the National Order of Quebec for discovering that loving touch effects change in our gene expression, brain and neuroendocrine system.

These recent discoveries in biological psychiatry and neuroscience have paved the way for a revolutionary new field of care known as haptic medicine which relates to the ability to provide nurturing care that directly affects the brain and therefore the body's healing systems.
Touch has been shown to reverse the negative effects of stress on the brain and affects development. So consider giving yourself a daily oil massage before your shower in the morning. Or if time is tight indulging in a self-massage followed by a relaxing bath before bed is a great way to support a great night's sleep.
Self Massage Instructions
Give yourself a massage before your morning shower or bath. Store your massage oil in a plastic flip-top bottle and warm it by sitting the container in a cup of hot water for a few minutes, or by running it under a hot tap.
Dip your fingertips into the warm sesame oil or Vata Massage oil or place a small amount in your palm and apply it lightly to the body for 1-2 minutes or 5-10 minutes as below.
Mini Massage 1-2 minutes
If your morning schedule does not allow the more leisurely massage then this mini massage is a great option to include in your morning routine.
Take 1 tablespoon of warm oil and rub the oil into your scalp as if you were shampooing. Using your palm to massage the forehead from side to side with circular motions to massage your temples. Then gently rub the outside of your ears.
Next, take 1 tablespoon of warm oil and massage both feet. Use your fingertips to massage between your toes, and then briskly rub the soles of your feet back and forwards with the palm of your hand. Lastly, sit quietly to allow the oil to soak in as you relax. Then shower or bathe as normal.
Full Body Massage 5-10 minutes
Massage the head and ears as described above and also include the face.
Use the flat of your hand to next massage your neck (front and back) and shoulders.
Then vigorously massage your arms with back and forward motions on the long parts and circular motion at the shoulders and elbows.
On the trunk of your body use large, gentle circular clockwise motions on the chest, stomach and lower abdomen. Use a straight up and down motion over the breastbone.
Reach around without effort to massage your back and spine (as best you can)
Then vigorously massage your legs with circular motion at the ankle and knees and back and forward strokes on the long parts.
Lastly, massage your feet and toes.
To wash off the oil use warm (not hot) water and mild soap.
Use shampoo on your hair.
Wishing you the bliss and resilience that a regular self-massage provides.
Linda Sinden has been a practising Maharishi Ayurveda Consultant since 1990 and is a regular contributor to our weekly Insights. She has a practice in Auckland, New Zealand and also provides phone or Skype sessions for those who need assistance, but don't have a consultant in their vicinity.

Email: lindasinden@orbislife.co.nz Skype: Linda.Sinden
Mobile: +64 212237525
---
Leave a comment
The Herbs in Maharishi Ayurveda Products Are Prepared in the Traditional Ayurvedic Way. 100% Natural and Side-Effect Free. Made to Naturally Restore Balance in Your Body. Buy Now!