Vital lady, vital man…
Author: Maharishi Ayurveda Date Posted:29 August 2016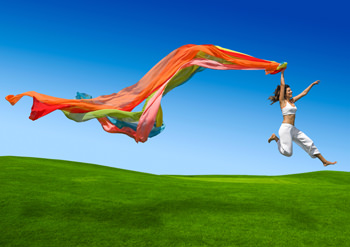 Get back your energy and vitality
Remember when you last looked in the mirror and saw a smiling energetic mirror image? Didn't it feel great!
Your body has the ability to generate all the energy and vitality you would like.
When energy resourses are high the world is full of possibilities and one has the mental clarity and physical resources to engage and enjoy life. When energy and vitality are low everything is more of an effort and struggle and obstacles more likely.
Your current resource of energy and vitality probably fits somewhere between these two extremes. It makes good sense when considering energy resources to think of a battery (be it a cell phone, lap top or car battery). They all need to be positively charged to function and the lower the charge level the lower the performance, until eventually no performance when the battery has run flat. Our energy and vitality can be like this too.
It can be difficult to maintain adequate energy and vitality in the face of long workdays, little or no regular holiday time, lack of sleep, relationship challenges, young children or sick relatives, poor diet high in sugar, coffee and fatty foods and insufficient exercise. Energy drinks, coffee fixes, alcohol fixes etc may give a temporary exhilaration, but are quickly followed by an even lower low.

So what's the secret?
It's lifestyle changes that often bring about the most lasting results in a person's energy and vitality. Simple as it seems the answer lies in ensuring everyday choices keep our physical and mental resources topped up; then energy and vitality is automatic, natural and effortless.

A helping hand
When I am consulting, the client's energy resources are key to their speed of recovery and ability to maintain mind-body balance. The following are some important traditional herbals that I routinely prescribe to support energy, vitality and robustness.

Powerful herbals
Premium Amla Berry Take 2-4 tablets prior breakfast and evening meals.
This 21-step formulation which ensures high potency is traditionally used to support peak athletic performance and recovery, to rejuvenate cells, improve muscle tone, strengthen digestion and metabolism and is a powerful antioxidant for skin, eyes and mind. It balances Vata, Pitta and Kapha and is good for everyone.

Fatigue Free Take 1-2 tablets along with Premium Amla Berry prior breakfast and evening meals.
The restorative herbs in Fatigue Free includes Sida cordifolia (country mallow) and nine other herbals renowned in Ayurveda for replacing dead cells quickly. The addition of licorice, nutmeg, ginger, pepper and long pepper promote healthy digestion and the flow of nutrients to your cells, with ashwagandha helping your body adapt to and recover from stress. Lastly, zinc is especially helpful when combating fatigue.
Being a Vital Lady or Vital Man
For an all-round prescription I then bring in Vital Lady for women and Vital Man for men.
Vital Lady supports stamina, reproductive health and helps to balance hormonal flow while also aiding the youthful glow and vitality of the skin.
Vital Man is taken by men of all ages to balance and strengthen the whole body including mental performance, emotions, blood purity, digestion and reproductive fluids. It is easy to assimilate and supports stress resilience. It is a must when life is busy and a little stressful or hectic and provides the energy and vitality for peak performance.
Give yourself a treat and take this trio to support your energy and vitality this month.
Wishing you the bliss of balance.
Linda Sinden has been a practising Maharishi Ayurveda Consultant since 1990 and is a regular contributor to our weekly Insights. She has a practice in Auckland, New Zealand and also provides phone or Skype sessions for those who need assistance, but don't have a consultant in their vicinity.

Email: lindasinden@orbislife.co.nz Skype: Linda.Sinden
Mobile: +64 212237525
---
Leave a comment
The Herbs in Maharishi Ayurveda Products Are Prepared in the Traditional Ayurvedic Way. 100% Natural and Side-Effect Free. Made to Naturally Restore Balance in Your Body. Buy Now!