What's bright red and good for you?
Author: Maharishi Ayurveda Date Posted:25 April 2016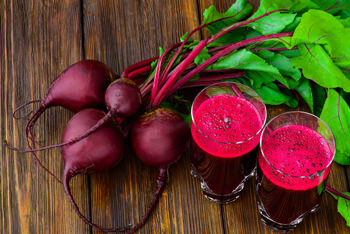 What is the dark red root vegetable that when peeled, coats the hands with it's bright red juice?
You've probably guessed it - the hardy and energy-promoting beetroot.
Root vegetables are recommended during autumn and winter and the beetroot helps to keep you balanced during winter. This week we see how to keep your digestion and circulation powered up by including beetroot and Aller-GI in your diet, to support a healthy gut and intestines this winter.
Yes to beetroot this winter
Beetroot has a powerful vasodilation effect (widening of blood vessels) which helps
Keep your feet and hands warm during colder weather
Support healthy blood pressure
Increase the blood supply to the pre-frontal cortex so the executive functions of memory, planning, organizing and time management, all receive a boost
Protect against the decline of physical and cognitive function associated with aging
Eating beetroot in your diet this winter will give your liver powerful support as eating beets increases enzymatic antioxidants and supports healthy blood sugar. It's thought to be due to the high levels of alpha-lipoic acid (ALA) found in beetroot, which allows antioxidant support to reach the deep tissue levels, helping resolve free radical damage.
Beetroot with Lemon and ginger
Here's a lovely salad to have during winter
Grate 1/4-1/2 a medium sized beetroot per person. Finely grate or cut ginger root to taste and add to the grated beetroot. Then squeeze lemon juice (1/2 lemon per person) over the beetroot and serve as a condiment to a meal at lunchtime.
Strong digestion is essential during winter
Aller-GI is designed to strengthen and nourish your gastro-intestinal tract while supporting the natural resistance to food allergens. Winter is the time where we naturally desire heavier foods to keep us warm and nourished during the colder days. At this time it is essential to keep your digestion strong to protect your health.
If you know this is an issue for you, we strongly suggest you learn more about Aller-GI
Wishing you the bliss of balance this week.
Linda Sinden has been a practising Maharishi Ayurveda Consultant since 1990 and is a regular contributor to our weekly Insights. She has a practice in Auckland, New Zealand and also provides phone or Skype sessions for those who need assistance, but don't have a consultant in their vicinity.

Email: lindasinden@orbislife.co.nz Skype: Linda.Sinden
Mobile: +64 212237525
---
Leave a comment
The Herbs in Maharishi Ayurveda Products Are Prepared in the Traditional Ayurvedic Way. 100% Natural and Side-Effect Free. Made to Naturally Restore Balance in Your Body. Buy Now!