Why go organic?
Author: Linda Sinden Date Posted:1 May 2019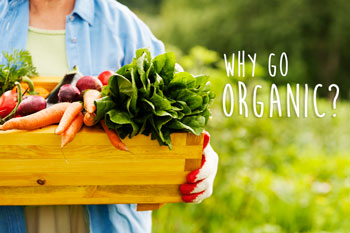 Because it tastes better and it's good for you! You could think of it as an insurance policy for your health and wellbeing.
Organic food
Reduces the amount of toxic chemicals ingested

Protects you from the unknown effects of genetically modified organisms

Reduces the amount of food additives and colourings

Increases the amount of beneficial vitamins, minerals, EFAs (essential fatty acids) and antioxidants consumed

Appears to have the potential to lower the incidence of common lifestyle conditions such as coronary heart disease, allergies and hyperactivity in children.

Some studies suggest that following a healthy diet as part of a healthy lifestyle could prevent 30–50% of all cancers.
Organic farming is better for the environment. Organic farming begins with nourishment of the soil, which eventually leads to the nourishment of the plant and ultimately our palates. The methods of organic production have less impact on soils, water and ecological systems than conventional agriculture. By eating organics you will help your family by reducing the amount of chemicals that will end up on their dinner plate. Not only does organic food taste great, but it is also high in nutritional value excellent for your overall health and wellbeing.
Organic herbals
The ancient physicians of Ayurveda understood how to match the intelligence within herbs and foods to support and ignite your body's own healing power. Herbs contain the most concentrated form of nature's intelligence. Maharishi Ayurveda provides a range of organic herbals grown and harvested and manufactured to preserve this natural intelligence so they are able to work effectively at the deepest levels of your physiology.
Our formulations are all-natural—they contain no artificial colors of flavors. Natural binders collected from the wild, such as gum arabic, are the binders used in some formulas. All capsules are vegetarian, and the coatings on tablets are vegetable glycerin. No animal products are used in the formulas or during processing. Our state-of-the-art, hygienic processing facilities were designed by a team of ayurvedic experts, food technologists and scientists to blend the best of the ancient and the modern. Many of our herbals are certified 100% organic.
Select from our certified organic herbal range below to learn more
Premium Amla Berry Organic

Digest Tone (Triphala plus) Organic

Digest Tone Organic (Triphala plus) Organic Bulk 250 Pack

Guggul Organic

Shatavari Organic

Tulsi Organic

Garlic Organic

Kapha Churna Organic

Pitta Churna Organic

Vata Churna Organic

Vata Tea Organic

Pitta Tea Organic

Kapha Tea Organic

Amalaki Organic

Neem Organic

Turmeric Organic

Ashwagandha Organic

Brahmi Organic

Genitrac Organic

Youthful Mind Organic

Digest Tone Triphala Powder Organic

Moringa Organic

Vata Massage Oil Organic

Pitta Massage Oil Organic

Kapha Massage Oil Organic

Manjistha Powder Organic
Wishing you the bliss of balance.
Linda Sinden has been a practising Maharishi Ayurveda Consultant since 1990 and is a regular contributor to our weekly Insights. She has a practice in Auckland, New Zealand and also provides phone or Skype sessions for those who need assistance, but don't have a consultant in their vicinity.

Email: lindasinden@orbislife.co.nz Skype: Linda.Sinden
Mobile: +64 212237525
---
Leave a comment
The Herbs in Maharishi Ayurveda Products Are Prepared in the Traditional Ayurvedic Way. 100% Natural and Side-Effect Free. Made to Naturally Restore Balance in Your Body. Buy Now!