Why is Digest Tone Our #1 Product?
Author: Linda Sinden Date Posted:19 November 2018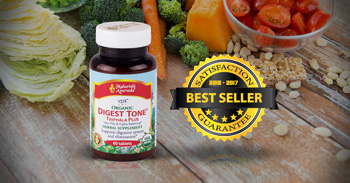 Traditionally it is said if a Vaidya (Ayurvedic practitioner) knows how to use triphala then they can help heal any condition… a bold claim of the ancient physicians who prized triphala so highly. Let's take a look why.
Triphala is a combination of three fruits called amalaki (Emblica officials or Phyllanthus embolic or Indian Gooseberry), haritaki (Terminalia chebula or Indian Gallnut) and bibhitaki (Terminalia bellirica). Let's take a leaf out of the traditional books on Ayurveda to understand the potency of these three special fruits
The great Sage Charaka considered haritaki to be as nourishing as mother's milk. He said it helps enhance absorption of nutrients in food, is good for the digestive system and helps to cleanse the micro and macro circulatory system. He also considered amalaki to be the best among rejuvenating herbs and bibhitaki to be excellent for balancing and nurturing the vocal cords, an antibacterial and a rasayana or tonic for the eyes.
A classical Ayurvedic text on surgery called Sushruta Samhita states that haritaki and triphala is useful for cleansing wounds and supporting rejuvenation of the insides. It also says that bibhitaki helps to purify the blood and to maintain healthy blood clotting.
Bibhitaki is also mentioned in the Bhavprakash Nigantu as being nourishing for the eyes and hair, helping to maintain the hair roots, colour and thickness.
Each of these ingredients on their own provide potent rejuvenating and cleansing effects. All together they are a prized tonic or rasayana that works from the deepest levels of our physiology to support the digestive tract and formation of all tissues - which in turn supports the healthy formation of our skin, eyes and hair.
In our No 1 product Digest Tone triphala is combined with the petals of the Rose Cabbage or Provence Rose to further enhance the balancing effects for us in the west. The petals are renowned for their many health-giving properties. They help to balance Sadhaka Pitta, the subdosha that governs the heart and emotions. They also enhance the coordination between the heart (Sadhaka) and the breath (Prana) which govern the brain, head, chest, respiration, senses and mind. Learn more about Digest Tone.
In the product Cholesterol Protection Triphala is combined with Turmeric and Guggul to support healthy cholesterol levels. This formula enhances digestion and healthy liver function. I have found this to be a very effective formula with clients needing support with higher than normal cholesterol levels.
To enhance the tonic and cleansing effect of Digest Tone consider taking 1-2 tablets at bedtime with some warm water. If constipation is an issue for you, this is ideal time to take it - 2-3 tablets depending on need.
If one could only take one herbal Digest Tone is the one to take. It is one herbal that can be taken indefinitely. Over time it helps balance all three doshas and supports the agnis (digestive fires) that are responsible for the healthy formation of all tissue layers.
Wishing you the bliss of balance..
Linda Sinden has been a practising Maharishi Ayurveda Consultant since 1990 and is a regular contributor to our weekly Insights. She has a practice in Auckland, New Zealand and also provides phone or Skype sessions for those who need assistance, but don't have a consultant in their vicinity.

Email: lindasinden@orbislife.co.nz Skype: Linda.Sinden
Mobile: +64 212237525
---
Leave a comment
The Herbs in Maharishi Ayurveda Products Are Prepared in the Traditional Ayurvedic Way. 100% Natural and Side-Effect Free. Made to Naturally Restore Balance in Your Body. Buy Now!