Winter - Lift your mood naturally!
Author: Linda Sinden Date Posted:15 July 2021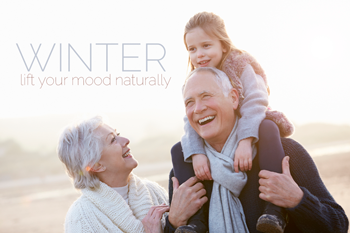 Do you notice your mood is impacted during winter when the sun shines less?
This can be due to Seasonal Affective Disorder (SAD) which is a form of low mood or in the extreme depression, related to the change of season from summer to winter, and which affects people through the winter months.
Ayurveda understood this phenomenon many years ago. As the warmth of the sun reduces during winter the Kapha qualities in all of us are impacted. We can find ourselves feeling slow, dull or heavier and Ayurveda explains this can lead to low mood, sadness or depression. It can be helpful to support one's mood with targeted herbals during winter with our Blissful Joy formula.

Blissful Joy
Take 1-2 tablets 60 minutes after breakfast and evening meals.
Lift your spirits naturally! Blissful Joy is traditionally used to support a renewed feeling of energy and happiness and an overall sense of well-being. It helps
Nourish and support the heart
Remove toxins that lead to feeling dull
Restore the memory of bliss in your cells
Keep you flexible, alert and energetic.
Consider giving yourself a lift this week and during Winter and get a 10% saving too!
Wishing you the bliss of balance,
Linda and the Get Balance Team
Linda Sinden has been a practising Maharishi Ayurveda Consultant since 1990 and is a regular contributor to our weekly Insights. She has a practice in Auckland, New Zealand and also provides phone or Skype sessions for those who need assistance, but don't have a consultant in their vicinity.

Email: lindasinden@orbislife.co.nz Skype: Linda.Sinden
Mobile: +64 212237525
---
Leave a comment
The Herbs in Maharishi Ayurveda Products Are Prepared in the Traditional Ayurvedic Way. 100% Natural and Side-Effect Free. Made to Naturally Restore Balance in Your Body. Buy Now!