Your Genes Speak
Author: Maharishi Ayurveda Date Posted:10 April 2017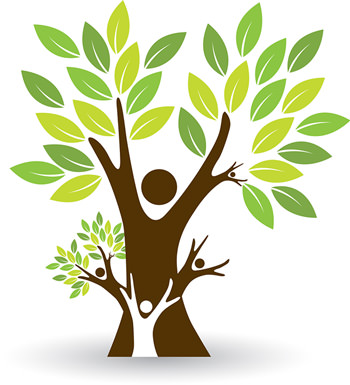 If you have early greying then Ayurveda explains this is a predominance of Pitta qualities.
If you have curly or frizzy hair this expresses a predominance of Vata qualities.
If you have thick and shiny hair then Kapha qualities are being expressed strongly in the formation of your hair.
We would say these tendencies are inherent or natural to you. In modern science they would be considered part of your genotype or DNA. They are passed on through your genotype to the next generation. You may say "of course, we all instincitvely know this to be true. When we hold our baby and see our child grow and mature over time". And sometimes their behaviour can be scaringly similar too.
The ancient physcians catalogued a wide range of physical, mental, emotional and behavioural tendencies that come with the territory of being dominant in Vata, Pitta or Kapha qualities. Research in cell expression is starting to create a bridge with this world of understanding.
Genetic research and Ayurveda
What I find really exciting is that research on cell expression has located the genes that when switched on in your cells, results in early greying of hair.
In addtion people with very grey hair (regardless of age) also show increased gene expression responsible for inflammation. Researchers are also questioning if this combination of gene expression also gives an increased risk of heart attacks or cardiovascular disease.
This relationship of a cluster of factors has been known for over 3000 years within the health care system of Ayurveda to be due to a Pitta imbalance.
Ayurveda has understood this matrix of gene expression and provides a thorough and deep understanding of how one can behave to minimise the cell expression (epigenetics) so that a tendency only ever remains a tendency and never needs to express into disorder or disease.
Dr Hari Sharma MD, DABIHM, DABP, FRCPC at a recent global Congress of Ayurvedic experts explained that our life (and thus our wellbeing) is conrolled 10% by our genetics and 90% by our epigenetics or external factors such as lifestyle, diet, stress, meditation and environmental factors.
Be at the source of your wellbeing
So with the power of this knowledge in your hands I'd like to suggest you consider doing five things this week:
Amrit Kalash Ambrosia and Nectar take 1 tablet of each twice a day. Research has shown they are a powerful anti-oxidant, helping reduce inflammation, nourishing and supporting healthy cell expression.

Give your mind and body time out with the deep rest that Transcendental Meditation provides twice a day.

Get the most from your diet.
Eat when hungry and choose foods that are suited to your body type and season.

Aim to have your largest quantity of food at lunch time when you can digest it the best.

To know which foods are best for you at the moment complete our Test Your Health questionnaire and refer to the food choice options that you are given, based on which dosha needs most balancing (whichever score is highest for Vata, Pitta or Kapha). Or simply favour the foods that are best for your mind-body type.

Get 7-8 hours sleep a night ideally between the hours of 10pm to 6am.

Be physically active at a comfortable pace for 30 minutes or more most days.
Wishing you the bliss of balance and the power of knowing that your every day choices do make a great difference in how well and happy you are and will be.
Linda Sinden has been a practising Maharishi Ayurveda Consultant since 1990 and is a regular contributor to our weekly Insights. She has a practice in Auckland, New Zealand and also provides phone or Skype sessions for those who need assistance, but don't have a consultant in their vicinity.

Email: lindasinden@orbislife.co.nz Skype: Linda.Sinden
Mobile: +64 212237525
---
Leave a comment
The Herbs in Maharishi Ayurveda Products Are Prepared in the Traditional Ayurvedic Way. 100% Natural and Side-Effect Free. Made to Naturally Restore Balance in Your Body. Buy Now!