Your Mind Power Trio
Author: Linda Sinden Date Posted:5 November 2020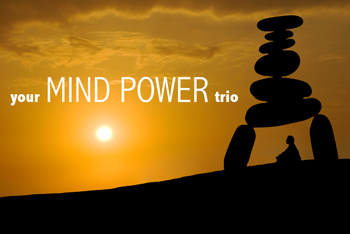 Could your mind-power do with some amping up to support your mind, memory, recall and to promote the development of consciousness? increasing mind power helps create a sense of happiness and purpose in life, promotes creative thought, enhances problem solving and helps one feel more relaxed and composed. See how Ayurveda has taken nourishing the mind to a new level with the Mind Power Trio below...
Price $42.95 NOW $36.50
Feeling forgetful? Youthful Mind supports optimal mental functioning no matter one's age, helping to remove the toxins that inhibit learning, memory and recall while supporting the development of consciousness.
Supports removal of toxins that inhibit mental clarity

Sharpens short & long-term memory

Rejuvenates the mind, helps to develop resilience to daily mental stress (for all ages)

Targets the intellect with a precise blend of gotu kola, licorice & indian tinospora

Helps to balance both Vata and Pitta
Premium Amla Berry - Organic
Price $41.95 NOW $35.65
This 21 step high potency formula helps to rejuvenate cellular tissue to support both the mind and body. It is traditionally used to increase strength, energy and endurance. Taken along with Youthful Mind it helps by supporting energy and strength to the mind.
Clinically, I recall one client who was recovering from a number of strokes. When taking Premium Amla Berry he was able to get out of bed, play the piano and interact. When supply ran out he lacked the energy and stamina to do so but once supply was restored, he was up again! Also a top level athlete client found increased ability to train, perform and recover when taking Premium Amla Berry.
Price $59.95 NOW $50.95
Increase your ability to focus and acquire new information even when under pressure. Enhance your ability to retain information for later use no matter your age. Great when learning or studying and helpful when wanting to support or protect mental functions as one ages. Support your intelligence, confidence, happiness and improve your resilience to stress and ability to perform under pressure with Intelligence Plus.
Supports learning, memory and recall

Helps with mental fatigue and supports mental clarity and ability to focus along with resistance to stress

Enhances self-confidence and positive feelings making learning more enjoyable

Includes 3 key herbs gotu kola, ashwagandha and brahmi along with a number of supporting herbs

Helps to balance Vata and Pitta
Take the chance to save 15% this week while amping up your Brain Power this week. Shop now to save and while stocks last.
Wishing you the bliss of balance,
Linda Sinden and the Get Balance Team
Linda Sinden has been a practising Maharishi Ayurveda Consultant since 1990 and is a regular contributor to our weekly Insights. She has a practice in Auckland, New Zealand and also provides phone or Skype sessions for those who need assistance, but don't have a consultant in their vicinity.

Email: lindasinden@orbislife.co.nz Skype: Linda.Sinden
Mobile: +64 212237525
---
Leave a comment
The Herbs in Maharishi Ayurveda Products Are Prepared in the Traditional Ayurvedic Way. 100% Natural and Side-Effect Free. Made to Naturally Restore Balance in Your Body. Buy Now!