Your Stress Check
Author: Maharishi Ayurveda Date Posted:13 November 2017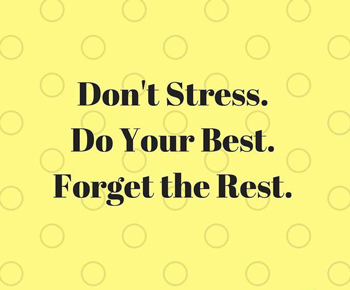 Stress is a fact of modern life. Proactively managing the impact of stress is a smart choice as stress creeps up on you, often while you are unaware.When compiling an action plan to build your resilience to stress and fatigue consider the 10 point plan below!

1. Take Breaks.
No stress management "tricks" can support an exhausted person who has not rested and recovered as we are meant to. One day in seven rest, and after twelve weeks hard work take a long weekend at least for rest and recharge.

The deep rest of Transcendental Meditation NZ | AU provides rest and recharge twice as deep as that experienced at 5-6 hours of sleep. This level of very deep rest spontaneously inspires the knots of stresses deposited in various areas within your body to be released. When the deep rooted hard knots of stress are released the natural result is a holistic improvement in health and vitality, better sleep, feeling happy with a natural boost to the ' happiness molecule' serotonin!

2. Recharge your natural chemistry.
Serotonin levels are also boosted by Sun Exposure, Exercise, Love shown, Laughter, Tears, Creative activity, Yell/sing or cheer, Worship/Meditation, Visiting Awesome places. These activities rebuild batteries and build resilience. Make them happen daily and weekly!
Herbals that help boost your mental power are:
Worry Free

helps to calm your mind and emotions, supporting mental clarity, deeper sleep and increasing your resilient to day to day stress and tension. Take 1-2 tablets after breakfast and evening meals. Add sips of Worry Free Tea every 15-30 minutes through the day for a well rounded programme.

Stress Relief formula provides a natural boost helping to reduce the impact of stress cortisol and aiding in the calming of anxiety. Take 1-2 tablets prior breakfast and evening meal or at bedtime to support sleep onset.

Brahmi (Bacopa) is a revered ayurvedic tonic for the brain which is useful for mental fatigue and supports concentration and memory. Take as per bottle.

Drink Tranquilitea sips every 15-30 minutes through the day any time of the year! It aids in the balance of both Vata and Pitta stress symptoms such as worry, frustration, anxiety or anger.
3. Eat Smart!
Dinner goes into your fat cells; but you work on breakfast and lunch. So boost the first two meals with foods that suit your mind body type or current body type of imbalance. Take the FREE test your health quiz to see what foods are best for you currently. Take plenty of fluids between meals.


4. Pull tension out of tight muscles.
Pull tension out of the tight muscles of your body on an hourly basis through busy days. Every hour do three shoulder rolls forward and backward, then have a big stretch. Learn a relaxation exercise routine. Use the yoga exercise the "Lion", and utilize abdominal breathing.


5. Dump Frustrations daily.
Consider a Daily Download: Do not go to bed with a problem on your mind, or you will be woken at 3am with it! Dump problems onto paper before bed!
6. Put time aside for positive relationships.
They only work if you are there! Practice good transition rituals on the way home, so you look forward to arriving, and those there look forward to seeing you. Use relaxation exercises on commutes, clothes changes, and wash the day away down the plug hole. Plan an unwind routine at night that works!


7. Deal with any unresolved griefs.
Remember "Great Griefs" can take a long time to recover from. Viktor Frankl observes of great griefs, that "there are some things that if they do not cause us to lose our minds it is because we didn't have one to lose!"


8. Be aware of the stress that arises in crossing decade barriers.
Crossing decade barriers can lead to existential crises, where we question our meaning, purpose and direction in life. Face these!
9. If your work or social environment is toxic - run for your life!
Dr McEwan says if your work or social environment is toxic either physically, or socially, there are no tricks that can keep you safe – run for your life!


10. Develop a sustainable strategic life plan.
Develop a strategic plan for your life that will get you where you want to be, and do so sustainably.
Wishing you the bliss of balance!
The Get Balance Team
Linda Sinden has been a practising Maharishi Ayurveda Consultant since 1990 and is a regular contributor to our weekly Insights. She has a practice in Auckland, New Zealand and also provides phone or Skype sessions for those who need assistance, but don't have a consultant in their vicinity.

Email: lindasinden@orbislife.co.nz Skype: Linda.Sinden
Mobile: +64 212237525
---
Leave a comment
The Herbs in Maharishi Ayurveda Products Are Prepared in the Traditional Ayurvedic Way. 100% Natural and Side-Effect Free. Made to Naturally Restore Balance in Your Body. Buy Now!