Brahmi - Brain Power For Deadlines
Date Posted:18 February 2014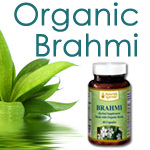 You've been pushing to get a project done to meet your deadline. Fighting against the clock while working long hours, your busy mind resists sleep, if it comes at all. Other tasks take attention and energy; family, relationships, even office politics – all conspire to sap the focus and clarity your task requires. Patiently, though, an ancient ayurvedic herbal formula waits for you to discover how quietly and profoundly it can help you to accomplish your goals without being too exhausted to enjoy them.
In ayurveda – especially the true formulations from Maharishi Ayurveda – stellar mental accomplishment isn't accidental. It's a traditional specialty focus of genuine Ayurveda: nourishing the mind, the brain and the intellect together.
One herb in particular is meticulously blended in many different ways to promote these different functions – Brahmi. It's derived from a small plant with a tender white flower. To take advantage of the most integrated and powerful benefits, everything from the blossom through the roots is harvested carefully, with attention to timing of day and month. Also, the plants are grown in the most conscious way possible, using holistic and eco-friendly practices without toxic or harmful synthetic chemicals.
Most of the Maharishi Ayurveda formulas, whether a supplement or herbal beverage, are wrapped around a primary herb which is then supported by other herbs to enhance its effectiveness and particular healing action. This ancient science of combining herbs, or sanyog, has been proven over thousands of years of clinical practice. While creating balance and wholeness, this approach also helps to avoid negative side effects.
Imagine taking an herbal remedy which calms your mind, soothes your overactive brain and supports your intellect, all at the same time.
Perhaps you've been pumping yourself full of caffeine and sugar in an effort to stay on-task, awake and alert. What this choice too often leads to is a further depletion of energy after an initial, jagged boost. With Maharishi Ayurveda the boost is integrated into your system without negative side-effects, even if a product is used over a long time. There's also no concern about taking the formulas with other herbal supplements, vitamins or natural products, and many ingredients are USDA-certified organic.
There are inevitable times in life which demand huge mental focus and energy. They can lead to great growth and enhanced self-esteem. You can miss that pride of completion and its rewards if you're too exhausted or have gotten sick, but this doesn't have to happen. That little, white flowering plant, Brahmi, can help guide you to greater long-term satisfaction and well-being.
Reprinted with permission from MAPI, USA.
The Herbs in Maharishi Ayurveda Products Are Prepared in the Traditional Ayurvedic Way. 100% Natural and Side-Effect Free. Made to Naturally Restore Balance in Your Body. Buy Now!