Express Yourself
Author: Linda Sinden Date Posted:26 May 2020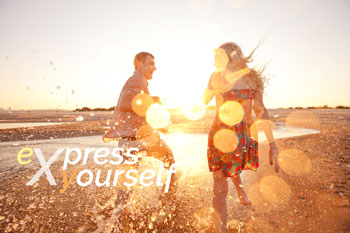 In many societies, people tend to be discouraged from expressing strong emotions. However, this can have a profoundly negative effect on our overall health. It is not wrong to express anger, sadness, jealousy or anxiety. In fact, it is healthy to release these emotions - just choose to do so constructively.
Problems arise when we do not know how to express our emotions constructively, or we react in a way that is harmful to ourselves or our relationships. It is preferable to find safe ways to express negative feelings than to ignore them. Here are some tips that may help you to express and deal with emotions constructively.
Endorphins
Endorphins are compounds in your brain that lift your mood. Endorphins recharge the body and mind, leaving you feeling great! Endorphins are released when you cry, yell/sing or cheer! So now you know why you feel so good after cheering from the sidelines!
Endorphins (meaning "morphine within") were only discovered within our brains as recently as the 70's. Diet, exercise, and general wellbeing control the production of endorphins, but stress and pain trigger their release. Things like eating spicy food release endorphins as your brain believes your mouth is on fire and so it releases some natural morphine.
Endorphins control emotions as well. If pressure or constraints are making you sad or angry then endorphins are released to re-elevate you to being happy. Similarly, endorphins will be released when fear strikes and help provide a calming feeling.
How to build Endorphins
Thirty minutes of at least nine activities will boost natural Serotonin; these are Sun Exposure, Exercise, Love Shown, Laughter, Tears, Creative Activity, Yell/sing or Cheer, Worship/Pray/Meditate and Visiting Awesome Places. These activities rebuild batteries and build resilience. Think about doing these daily and or weekly.
Herbal Help
If you are a Vata type or have a tendency for Vata signs of imbalance such as worry or anxiety consider taking 2 tablets of Stress Relief at bedtime with 2 tablets of Stress Free Mind twice daily.
If you are a Pitta type or have a tendency for Pitta signs of imbalance such as anger or intense frustration consider taking 1 dessert spoon of MA3323 prior breakfast and evening meals and Stress Free Emotions twice daily.
If you are a Kapha type or have a tendency for Kapha signs of imbalance such as low mood or feeling withdrawn or lacking confidence consider taking 2 tablets of Blissful Joy after breakfast and evening meals.
Wishing you high levels of Serotonin and a life that brings you great joy and love each day.
Linda Sinden has been a practising Maharishi Ayurveda Consultant since 1990 and is a regular contributor to our weekly Insights. She has a practice in Auckland, New Zealand and also provides phone or Skype sessions for those who need assistance, but don't have a consultant in their vicinity.

Email: lindasinden@orbislife.co.nz Skype: Linda.Sinden
Mobile: +64 212237525
---
Leave a comment
The Herbs in Maharishi Ayurveda Products Are Prepared in the Traditional Ayurvedic Way. 100% Natural and Side-Effect Free. Made to Naturally Restore Balance in Your Body. Buy Now!