Garshana


Garshana in combination with yoga exercises is particularly useful for getting rid of cellulite. It also helps break down fatty tissue, and rid the body of toxins, and fatigue. Garshana helps increase circulation.
Wearing silk gloves and using both hands, rub your skin quickly and vigorously. Over the long bones of the arms and legs, using sweeping 'back and forth' strokes. Change small, circular movements when you reach the joints – shoulders, elbows, wrists etc. To begin with, 10 to 20 long strokes at a time are enough; this can be gradually increased over time.
1.

Start by massaging the head, using brisk circular motions, proceeding to long strokes as you reach the neck and shoulders.

Now alternate these two movements as you continue down the arms:

Circular strokes at the shoulder joint, long strokes down the upper arm, circular again at the elbows, long down the forearm, circular at the wrist, long down the hand, and finally circular strokes over the finger joints.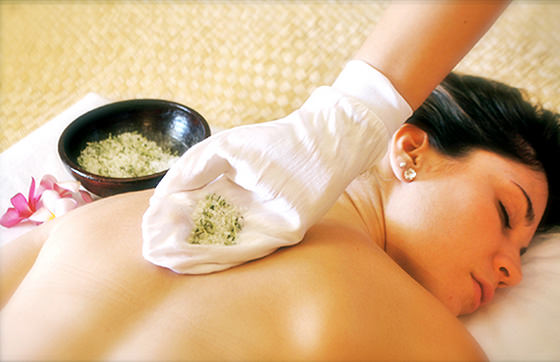 | | |
| --- | --- |
| 2. | Moving to the chest, massage horizontally with long strokes, but avoid massaging directly over the heart and breasts. |
3.

Massage horizontally on the stomach, then diagonally.

Using this alternating rhythm, proceed to the lower abdomen, lower back, buttocks, and thighs, giving added attention to any areas where there is extra fat.

(This is to promote circulation in these areas and to loosen toxins associated with excess Kapha and fat.)
4.

Massage the hip joints with circular motions.

Now go down the legs as you did the arms:

Long strokes on the long leg bones,

Circular at the knees and ankles, ending with

Long strokes over the foot.
The Herbs in Maharishi Ayurveda Products Are Prepared in the Traditional Ayurvedic Way. 100% Natural and Side-Effect Free. Made to Naturally Restore Balance in Your Body. Buy Now!