Healthy Digestion for Happy Joints
Date Posted:18 March 2014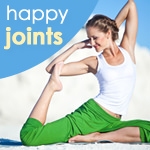 When did you last feel a little bit stiff or experience some joint discomfort or tenderness upon waking? Sometimes we live with slight discomforts or even pain for a few days or even a while … hoping our body will restore balance and remove the pain or discomfort.
It can be surprising to feel free of stiffness and pain when it has become a backdrop for everyday living.
"Ojas is the finest and most refined product of digestion and metabolism," explains Mark Toomey, Ph.D., the director of Maharishi Ayurveda programs and health practitioner at The Raj Maharishi Ayurveda Health Center and Spa. "Ojas production depends directly on how we digest and metabolize our food."
Ayurveda identifies two major types of joint problems.
The first type is associated with poorly nourished joints or low bone density and overall weakness in the joints. Because the bone is not getting the nourishment it needs, it starts to degenerate.
The second kind is associated with a toxic overload in the joints, and is the result of too many toxins in the body. If toxins stay there for a long time, the joint can become swollen and uncomfortable. Damp, cold weather can aggravate this type of joint problem.
As a practitioner of Maharishi Ayurveda since 1990 the stories clients tell continue to reinforce how powerful our food and herbal choices can be.
The proof of the pudding is in the eating. When digestion and overall health are in balance it shows…
"Last month I visited my dentist of 15 years. He inspected my mouth and said 'What have you been doing? Your oral health is the best it has ever been.' I'm delighted with the results I'm getting. My Maharishi Ayurveda physician told me that when digestion and overall health are put into balance oral and dental health naturally improve." Katherine, Sydney, Australia.
How is my digestion and joint health connected?
Each day as we eat and digest there is a subtle interplay occurring within our bodies. Complete and full digestion of food and experiences creates 'ojas' – a subtle substance ancient text say is responsible for maintaining physical, mental and spiritual strength and wellbeing. Ojas helps to maintain bone nourishment and strength. When digestion is incomplete or partial then 'ama – toxins or impurities' can result moving around the body and settling where there has been overuse or injury.
Wherever the impurities accumulate the body creates an immune response to attack the invader, in order to protect the integrity of the body. This attack is often experienced as stiffness, inflammation or pain in the body. Inflammation is now understood to be key in the development of disease.
Herbals that have helped
Joint Assist - Roberta's comments
"I had very swollen knuckles and after about 2 months using Joint Assist the swelling has reduced considerably. My right forefinger used to be bent and I was unable to straighten it. Now it is straight and the swelling has gone. I'm very happy". Roberta, Levin, New Zealand.
The herbs in this traditional formula provide a three-fold action:
Guggul and Tinospora in combination support cleansing of fat tissue, bones and joints
Shilajit, Aswagandha and Indian Asparagus support long-term bone and joint nourishment
Aswagandha, Indian Asparagus and Ajowain support joint mobility
Note: Pregnancy We advise that you stop using the product when you suspect that you are pregnant and consult your healthcare professional about its further use during your pregnancy.
Flexcel – Eleanor's comments
"I have told many of my acquaintances in my walking group, curling, aquacise, etc about your website and the extraordinary success that I have had, going from being severely debilitated with rheumatoid arthritis 2 years ago to the active almost 81 year old (young) that I am today. I ski, hike up to 300m elevation, am building a house, actively participate in volunteer groups and more." Eleanor, British Columbia, Canada
Flexcel helps nourish and nuture the formation of joints and also supports detoxification of toxins or impurities.
Joint Soothe Tablets and Joint Soothe II Oil
My Choice - The Joint Soothe tablets and Joint Soothe II Oil are two products regularly prescribed for clients. This powerful combination supports the natural process of eliminating toxins in the joints and helps to reduce pain and inflammation. For a complete programme add Digest Tone to help regulate digestion in order to reduce formation of 'ama' toxins , and to increase 'ojas' for enhanced healing power.
Joint Soothe tablets - Take 1-2 tablets with warm water 15-30 minutes prior morning and evening meals.
Digest Tone – Take 1 tablet with Joint Soothe prior morning and evening meals. If you also experience irregular bowel motions also take 2-4 tablets at bedtime with warm water. Adjust evening dosage according to results.
Joint Soothe II Oil - Gently rub the oil over the joint or sore muscle areas 2-3 times a day.
All the best,
Linda Sinden
Maharishi Ayurveda Consultant
The Herbs in Maharishi Ayurveda Products Are Prepared in the Traditional Ayurvedic Way. 100% Natural and Side-Effect Free. Made to Naturally Restore Balance in Your Body. Buy Now!