Herbals For Our Animals
Date Posted:26 November 2013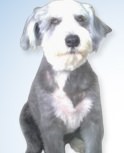 When you see Meggan (affectionately Meg) bounding around the park at dusk chasing rabbits (but never quite catching them) you would never know that she has cancer of the tonsils and neck.
At nearly 13 years Meg was diagnosed with adenocarcinoma and given 4-6 months. Now 8 months and counting, her loving owner Annette says Meg has the energy of a youthful dog. She used to be a little snappy but even that has gone and she seems very happy. Meg has lost no weight and her appetite has increased. Her quality of life seems to have improved amazingly and her happiness and joy in life is marked. At the park Annette is often asked if 13 year-old Meg is a puppy!
In addition the tumour in Meg's neck has been reduced by a whopping 50%, with swelling in the surrounding tissue also gone. It's not so easy to see the tumour in the throat so it is not certain how reduced it is, but Meg loves her food and eats it easily.
Annette's Approach
Annette, a vet nurse has had 3 dogs and loves her animals. She explains that once the diagnosis was given she felt bombarded with directions to take. Annette decided to choose one direction along with her Vets guidance and then go with it. Here is Annette's approach:
1. Treat the throat infection with antibiotics from Meg's vet.
2. Give doggy pain relief.
3. Give the body some immune support and foster quality of life for the time Meg had left by taking Amrit Kalash Nectar and Ambrosia.
Within a short time Annette noticed that Megs quality of life greatly improved. She was happier than she had been in years and eating well.
It was when MA151 Nervous System Support was introduced and taken along with Amrit Kalash Ambrosia that Annette excitably noticed that the neck tumour was reducing.
The Vet is amazed and says keep doing it …it's working
Herbals that help animals too
As animals are part of nature it seems obvious when one stops and considers, that animals would also benefit in similar ways to people when taking Maharishi Ayurvedic herbals.
Amrit Kalash Ambrosia (MA5) is a Traditional Ayurvedic formula of 13 herbs that supports the health of mind, brain, and nerves; increases vitality and inner strength; powerful antioxidant—research shows it to be up to 1,000 times more effective than Vitamins C and E … more>>
Amrit Kalash Nectar (MA7) Enhances coordination of mental and physical functions; supports balance between the heart and the brain and is a powerful antioxidant … more>>
Nervous System Support (MA151) is a rasayana that nourishes at the finest levels and supports balance throughout the whole physiology and has a powerful nourishing influence on the immune system… more>>
More stories
We also have a story to share about a cat whose thyroid results were remarkably changed when the cat was given Stress Relief (MA686)… but more about that later.
Do you have an inspiring story to share about how our products have helped your pet? We would love to hear…
The best story (to be chosen by Wayne our resident animal lover) will receive a gift bottle of Nervous system support.
So do tell us your story…
The Get Balance Team
The Herbs in Maharishi Ayurveda Products Are Prepared in the Traditional Ayurvedic Way. 100% Natural and Side-Effect Free. Made to Naturally Restore Balance in Your Body. Buy Now!