How to Maintain Ayurvedic Balance with Natural Herbal Remedies
Date Posted:10 April 2012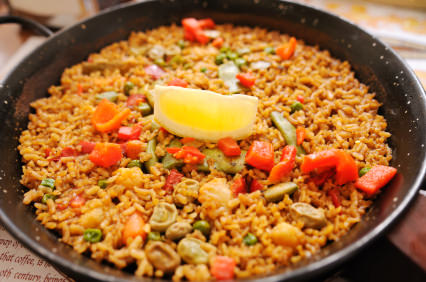 The importance of maintaining Ayurvedic balance at all times cannot be overestimated. There are various doshas at work in one's body all the time, although one dosha will naturally be more prevalent than others. Furthermore, a particular dosha will be prevalent at any given time of the year, depending on what season it is. The vata dosha is the dosha that is most prevalent during the autumn, so it is important to eat foods that will help to balance this dosha out and restore order in the body. This can be achieved by understanding which natural herbal remedies and Ayurvedic foods are beneficial.
Vata Balancing Foods
A person who is used to eating natural foods will automatically crave the foods that are good for him or her. However, even a person who is not accustomed to eating healthy foods will find that he or she prefers eating warm foods in cold weather. The reason for this is that warm foods such as soups, stews, and curries help to balance out the vata dosha.
Eating three regular meals a day is imperative to staying healthy and keeping the doshas in balance. One should start off the day with a warm, hearty breakfast. Oatmeal, rice pudding, and semolina are all good options, and most of these cereals only take a few minutes to prepare. Lunch should be the largest meal of the day. One should eat a stew, pasta, cous cous, or some other warm, satisfying meal. If the food is taken to the office, be sure to heat it up before eating it. Dinner should be much lighter than lunch; in fact, soup and toasted brown bread are ideal for the last meal of the day.
Recommended Foods
Most people understand that eating natural foods will help one to stay in good health. However, Ayurveda teaches that not all natural herbal remedies are suitable for every single time of the year. Each type of natural food contains certain vitamins and minerals. Some of these will reduce the vata dosha while others will aggravate it. During autumn, one will want to avoid foods that aggravate the vata dosha, and instead eat foods that will calm this dosha and keep it in check.
As was noted above, some suitable foods for autumn and winter are curries, stews, soups, brown bread, pastas, and cous cous. Other good foods for this time of year are chapattis, rice, paneer, and cooked vegetables such as beets, carrots, asparagus, and sweet potatoes. Most fruits are perfect for this time of year, but apples, pears, pomegranates, cranberries, and dried fruits should be avoided.
Those who are looking for good snacks should choose foods that will warm the body. Rice pudding, for instance, makes a great snack and is tasty to boot. Warm milk with a touch of sweetener is great, especially before bed, but coffee should be avoided. Nuts are very nutritious; cashews, almonds, and pistachios are ideal as they are very effective in balancing out the vata dosha. Sesame seeds are also just right for this time of year and can be added to many lunch and dinner dishes.
Cooking Ideas
There are so many foods that are suitable for autumn and winter that one should have no problem staying away from the foods which are not recommended for this time of the year. Following are some food preparation ideas for those who want to eat healthy foods during the autumn and winter months. While some of these recipe ideas may be a bit complex, others are quite simple yet still tasty.
Lemon Rice
Lemon rice, as the name implies, is made using lemon juice together with various other spices. It is very simple to prepare. One should boil the rice as he or she normally would and then set it aside. In a separate pan, one should fry mustard seeds in oil until these pop. After the mustard seeds have cooled down, the pan should be put back on the stove and one should add half a cup of lemon juice together with salt and tumeric. This mixture should then be added to the rice and stirred in thoroughly.
Chicken Curry
There are many ways to prepare chicken curry, but perhaps the simplest recipe would be to fry ginger, onions, and garlic together and then add curry powder, salt, and cut chicken pieces. Once the chicken is about half way done cooking, one should add yogurt and some water for the sauce. The curry should be left on the stove to simmer until the chicken is fully cooked. Adding cut potatoes and carrots to the curry is also a good option, but is not absolutely necessary.
Diet Advice
Following the above guidelines will help to boost one's immune system and help a person to stay healthy during autumn and winter. However, it should be noted that seeking personalized advice from an Ayurvedic doctor is always a wise idea. As was noted above, each person has one particular dosha that will always be naturally prevalent in his or her body. Depending on which dosha is prevalent in a person's body, the above recommendations may need to be adjusted in order to best meet a person's individual needs. A person who eats the right Ayurvedic foods at the right times can expect to be healthy, energetic, and maintain a youthful appearance, no matter how old he or she is or what time of year it is.
Related articles
The Herbs in Maharishi Ayurveda Products Are Prepared in the Traditional Ayurvedic Way. 100% Natural and Side-Effect Free. Made to Naturally Restore Balance in Your Body. Buy Now!