Immune Boosting with Spices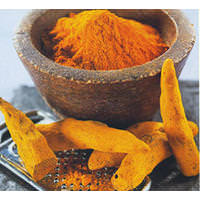 Spices are not only incredible flavor enhancers, they are known for their therapeutic value as well. Here's a spice mixture for enhancing immunity from one of our Vaidyas, or Ayurvedic experts
Immunity Spice Mixture:
6 parts Turmeric
3 parts Ground Cumin
3 parts Ground Coriander
6 parts Ground Fennel
1 part Powdered Dry Ginger
1 part Ground Black Pepper
1/4 part Ground Cinnamon
Directions:
Mix all the powdered spices well and store in an airtight container in a cool place away from direct sunlight.
Measure one teaspoon of the spice mixture in one tablespoon of Ghee and heat until aroma is released.
Remove from heat immediately to avoid burning.
Apply spiced Ghee to cooked rice, vegetables or other dishes before serving.
Taken regularly with each main meal of the day, this combination of spices will help boost your immune system and enhance digestion.
Warming Winter Tea:
Water
A few peppercorns – (optional for strong pitta types)
Big, brown cardamom – available in most Indian stores as "Moti Elaichi"
1 Licorice stick
A few Cloves
1 small stick of cinnamon
Fennel – optional
Honey
Directions:
Boil the water, with the spices till it becomes approximately half in volume.
Cool until just warm and then add to this a little honey.
Drink up! This is also OK if it is cooked with milk. Vata Tea is a simple and even better alternative to this however.
Spicy Winter Milk:
Organic milk
Saffron (a couple of strands)
A few dates
A few almonds, roughly chopped (dates are optional for Kapha types)
A pinch of cardamon
Directions:
Heat the milk with all the ingredients mentioned above, on slow flame.
Stir frequently to avoid the skin forming on the milk.
Heat this for a while until the dates start to break up.
At this point, take off the heat, pour into a cup and enjoy!
Foods to Favour and Avoid by Dosha:
What needs balancing can fluctuate during the year and vary by body type – just because one dosha needs balancing now doesn't mean it always will. This is why we refer to our current state of balance rather than a "fixed" body type.
If you're curious which dosha or area might need some attention, try our quick online questionnaire to Test Your Health
You'll receive an instant response with advice, then download your free guide outlining foods to favour and foods to avoid to balance each dosha, or body type.
The Herbs in Maharishi Ayurveda Products Are Prepared in the Traditional Ayurvedic Way. 100% Natural and Side-Effect Free. Made to Naturally Restore Balance in Your Body. Buy Now!