Simple Yoga For Energy And Balance
Date Posted:24 February 2015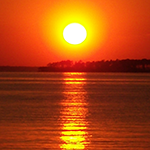 Yes! It works…
After years of striving to exercise I have finally found a way to exercise that involves the whole body and is fun to do – it's called 'functional exercise.' And it is probably no surprise to you that in considering this style of exercise I had one of those 'light bulb' moments!
Here was a superb functional exercise staring me in the face, which I have practised sometimes, but will now incorporate into my routine regularly. It is called the Sun Salutation and is traditionally known as Surya Namaskar. This ancient functional exercise achieves the same outcome as modern functional exercise, in a fluid set of yoga postures that you can do in your own home, at your own pace. Click here to see instructions on doing the Sun Salutation (Note: performing it facing the rising sun is highly recommended)
Just add some enjoyable walking, cycling, swimming, jogging or whatever takes your fancy to increase the cardio element. Then you have a balanced exercise routine that supports core strength and promotes a fit, active and enjoyable life.
What is the classical Ayurvedic view on exercise?
Purpose of exercise is to bring about strength and stability. Ideally it gives more energy than it takes.
Effect of exercise is to bring about lightness, work capacity and stability along with resistance to discomfort.
Signs of proper exercise are experienced when you reach about 50% of your capacity, which is ideally reached most days. Signs are perspiration, enhanced respiration and lightness in the body.
Effects of excessive exercise are exertion, exhaustion, loss of tissue (underweight body), thirst, obstructed breathing, cough, fever and vomiting.
Contra-indications for exercise are: excessive sexual activity, when you have completed a weight lifting session or travelled a long way on foot, are hungry or thirsty, are feeling anger, grief, fear or exhaustion.
Other times when it is wise to be careful with exercise is for children, the very elderly, people with Vata constitution, or if your profession involves a lot of speaking.
Fitness Herbals
You cannot go past Premium Amla Berry Organic along with Energy Plus when wanting to support all round energy and build lean muscle mass. Here's why…
Premium Amla Berry Organic is especially nourishing for muscular development, digestion, skin, eyes, lung strength and natural immunity. It is a powerful antioxidant for all ages and clients who use it have commented on increased energy and performance.
Energy Plus is a combination of two very popular Ayurvedic herbals Ashwaganda and Shatavari. Ashwaganda aids muscular stamina, brain nourishment and ability to concentrate. Shatavari is known for its ability to regulate the core of the body to support cooling and strength.
Being active most days in ways you enjoy makes sense and is a natural outcome of a life fully lived. And as the saying goes … use it or lose it. So get out those walking shoes if they are a little dusty, or buy yourself a new pair as a celebration of the great life choices you are making.
See about incorporating the Sun Salutation into a morning wake up routine and see how much better you feel.
Yours in health,
| | | |
| --- | --- | --- |
| Linda Sinden has been a practising Maharishi Ayurveda Consultant since 1990 and is a regular contributor to our weekly Insights. She has a practice in Auckland, New Zealand and also provides phone or Skype sessions for those who need assistance, but don't have a consultant in their vicinity. Email: lindasinden@orbislife.co.nz Skype: Linda.Sinden Mobile: +64 212237525 | | |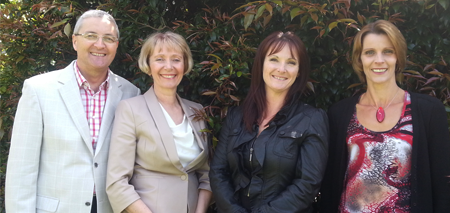 Wayne, Linda, Theresa and Louise
The Get Balance Team [associated-products]
The Herbs in Maharishi Ayurveda Products Are Prepared in the Traditional Ayurvedic Way. 100% Natural and Side-Effect Free. Made to Naturally Restore Balance in Your Body. Buy Now!