Tasty Ayurvedic Party Dip & Chutney
Date Posted:29 April 2014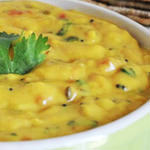 Nothing like a recipe that uses simple and natural ingredients, is easy to make and tasty as…. Here are a couple of our favourites:
Ayurvedic Garbanzo Party Dip
The chickpea (Cicer arietinum) is a legume. The seeds of this ancient plant – the chickpea – are high in protein. It is one of the earliest cultivated legumes (7,500-year-old remains have been found in the Middle East).
Other common names for the species include garbanzo bean, ceci bean, sanagalu, chana, hummus and Bengal gram.
This slightly-tart, slightly-sweet dip is perfect for a party. It can also be used as a stuffing for quesadillas or as a pesto-type sauce.
Ingredients
450g soaked and cooked garbanzo beans
Juice of 1 lemon
1 Tbsp Maharishi Ayurveda Organic Pitta Churna
6 Tbsp olive oil
4 heaped Tbsp grated Parmesan cheese (optional)
3 heaped Tbsp ginger preserve (crystallised ginger)
2 tsp lemon pepper
1/4 cup fresh coriander leaves
Salt to taste
Method
In a food processor, combine all the above ingredients and process until smooth. Garnish with coriander or your favorite garnish. Serve with organic flat bead (chapatis), organic pita bread, chips or cooked vegetables. Enjoy!
Ayurvedic Coriander Chutney
This is a simple recipe using the remarkable Coriander leaf. It is not only delicious, it is a safe way to begin purifying deep toxins (known as garavisha) from the body. You can eat coriander chutney with holy basil (tulsi) as an addition to your diet. The coriander is said to help remove heavy metals, and the holy basil is helpful in eliminating two particular kinds of toxins recognized by Ayurveda — amavisha and garavisha. If you grow it in your home, it helps purify the air as well.
Ingredients
8 tsp chopped organic coriander leaf
1 tsp shredded fresh organic ginger
1/2 tsp organic lime or lemon juice
1/2 tsp chopped holy basil leaf
Method
To make this delicious Ayurvedic chutney, just add a little water and blend together to a thin paste. Add salt to taste.
You can use this chutney with cooked veggies, rice and other grains and flat-breads (chapatis). Enjoy!
The Herbs in Maharishi Ayurveda Products Are Prepared in the Traditional Ayurvedic Way. 100% Natural and Side-Effect Free. Made to Naturally Restore Balance in Your Body. Buy Now!