The Power Of Single Herbs
Date Posted:4 March 2015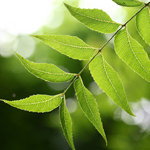 Potent Herbal Masters
This week we focus on three herbal masters. In writing this, I continue to be impressed at the power of these amazing single herbs.
Brahmi - Bacopa monnieri
What a wonder herb Brahmi is. Known for its ability to enhance brain function, Brahmi helps reduce anxiety and supports concentration and longevity. It is also a potent wound healer as it increases the synthesis of collagen.
This all round herb is used for all manner of imbalances from indigestion to dementia. It has grown popular in the west as students comment that it helps them retain information when cramming for exams.
If you are having difficulty with concentration due to a very active mind then it can help reduce anxiety and improve mental clarity. It can also help to soothe irritated skin and help to purify the blood. Brahmi supports the balance of all three doshas, but is particularly helpful for Pitta types or when the fire of Pitta is causing aggravation in the nervous system.
Neem
A beautiful evergreen tree Neem is highly resistant to insects and infections. This quality is very useful when Neem is taken internally to assist with infections, fevers and blood purification.
Chemical analysis of Neem flowers, leaves, seeds and bark, shows anti-fungal, anti-bacterial and anti-malarial properties.
Traditionally it is said to protect the liver against toxins from drugs or viruses. It is also considered helpful with blood sugar disorders, obesity, anxiety and pain. It has a measurable anti-inflammatory action, anti-anxiety effect and according to research helps significantly reduce pain. The blunting of inflammatory chemicals also helps to reduce the incidence of stomach ulcers due to stress. The array of uses for this herb leaves me impressed.
Ashwagandha - Winter Cherry
In Sanskrit, the literal meaning of the word Ashwhagandha is 'smell of a horse'. It is said to provide the strength of a stallion - just what's needed to combat the modern world's demands upon us and our nervous systems. Considered an adaptogen, Ashwagandha helps to modify the harmful effects of stress on the body. Known to be a potent tonic for masculine energy it also has strong immune-protecting properties.
Traditionally it is also used to calm mental turbulence, improve memory, logical thinking and problem solving. Ashwagandha is an all round mind body tonic that is a must in your cupboard.
Wishing you the bliss of balance,
| | | |
| --- | --- | --- |
| Linda Sinden has been a practising Maharishi Ayurveda Consultant since 1990 and is a regular contributor to our weekly Insights. She has a practice in Auckland, New Zealand and also provides phone or Skype sessions for those who need assistance, but don't have a consultant in their vicinity. Email: lindasinden@orbislife.co.nz Skype: Linda.Sinden Mobile: +64 212237525 | | |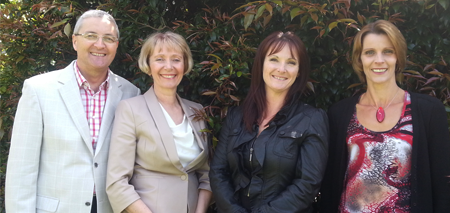 Wayne, Linda, Theresa and Louise
The Get Balance Team [associated-products]
The Herbs in Maharishi Ayurveda Products Are Prepared in the Traditional Ayurvedic Way. 100% Natural and Side-Effect Free. Made to Naturally Restore Balance in Your Body. Buy Now!