Warm Winter Salad
Date Posted:24 June 2014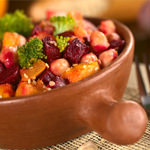 Food is medicine … and so is happiness! So let's bring together food, happiness and warmth this week with a tasty Roast Vegetable and Artichoke Salad with Cumin Ginger Dressing.
Filled with root vegetables and warming spices this recipe is a winter warmer jam-packed with nutritional goodness to keep your digestive fires and immunity strong.
As the weather gets colder outside our internal heat also becomes cooler. This can cause an imbalance in digestion leading to a build up of toxins or ama, clogging micro-channels and causing phlegm.
As toxins and phlegm build up in the stomach, sinuses and lungs, virus and bacteria love to grow giving rise to the colds and flus typical during winter time.
Prevention is better than cure
As the saying goes... prevention is better than cure. So keep the digestion strong by taking 1/3 tsp of Agni Balance prior each meal along with 2 tablets of Digest Tone prior evening meal, when the digestion needs the most help.
If you have a tendency to get winter colds and flus then consider being proactive or aiding recovery with the Cold and Flu Protection Pack.
Stay strong and keep the digestive fires burning brightly this week!
Bon appetite!
Roast Vegetable and Artichoke Salad
INGREDIENTS - PER PERSON
1 artichoke
1/2 Cup each sliced beetroot, pumpkin, zucchini, kumera or potato, leeks, cut into even slices
1/2 Tablespoon oil
Salt and pepper
1–1/2 Tablespoon Cumin Dressing (recipe below)
METHOD
Heat your oven to 180 degrees Celsius. In a small oven pan combine the beetroot, pumpkin, zucchini, kumera or potato, leeks, and oil; season with salt and pepper. Toss to combine, then slide into the oven. Roast for 20 minutes, then turn the vegetables. Roast for another 20 minutes or until done to your liking.
Meanwhile, fill a pan with just enough water to come up 2 cm of the sides. Bring to a full boil over high heat. While water is heating, trim and discard the stems and tough outer leaves of the artichoke.
When water is boiling, place steamer insert in pot and set artichoke in steamer, stem-side down. Cover pot with lid and allow artichoke to steam for approximately 20 minutes, until tender.
CUMIN GINGER DRESSING - MAKES ABOUT 1CUP
1 Tablespoon roasted cumin seeds
3 teaspoons of grated ginger root or 1 teaspoon of dried ginger powder
1 Cup vegetable stock
3 teaspoons lime juice
3 teaspoons olive oil
Salt and pepper to taste
2 Pinches of turmeric
Combine all ingredients in a pot and warm.
Serve the artichoke with the roasted vegetables, then pour over it the cumin dressing. The recipe can be lightly or liberally sprinkled according to taste.
Wishing you the bliss of balance,
Linda Sinden
Maharishi Ayurveda Practitioner
Get Balance Team
The Herbs in Maharishi Ayurveda Products Are Prepared in the Traditional Ayurvedic Way. 100% Natural and Side-Effect Free. Made to Naturally Restore Balance in Your Body. Buy Now!