Weight reduction…Winning formula
Date Posted:15 April 2014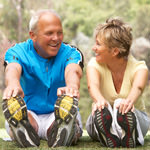 We want to introduce you to the winning formula clients have used to maintain a healthy body shape or even drop 20-30kg when they needed to.
First, learn about the dietary, exercise and life style recommendations that help to reduce weight and take the mystery out of what to do. By learning these natural ways to lighten your body and mind it becomes easier to set up the right environment for your body to melt away even stubborn fat.
Key to melting away stubborn fat and weight
Sometimes we all need a helping hand to kick start weight loss or to help when we have reached a plateau. Experience shows a need to balance appetite, enhance burning of stored fat, cleanse tissues and maximize absorption of nutrients. For some people it can be really important for success to also help reduce cravings.
The Weight Loss Booster Pack 1 (for normal appetites) or Weight Loss Booster Pack 2 (for strong or excessive appetite) is a combination of three outstanding herbals that are traditionally formulated to help balance appetite, enhance burning of stored fat, cleanse tissues, maximize absorption of nutrients and reduce cravings. Some key herbs in these packs
Gymnema and Malabar helps balance fat metabolism and slow carbohydrate absorption
Guggul supports fat metabolism and helps balance cholesterol production
Zinc Bhasma also supports fat metabolism
Tinospora, sarsaparilla, nutgrass and cumin help boost digestion and assimilation
Amalaki, Haritaki and Bibhitaki and Cabbage Rose rejuvenate the digestive tract, help the body gently detoxify (including, blood, muscle and fat tissues), assist with balancing cholesterol, provide anti-inflammatory support, reduce congestion and assist elimination.
Be Trim Tea is a favourite with clients who comment that it really reduces their sugar cravings and is pleasant to drink. With herbs and spices like Gymnema Sylvestre, Fennel Seed, Cinnamon and Cardamom, Be Trim Tea is a flavourful, all-natural way to help balance fat and sugar metabolism and curb snack cravings, day or night.
Theresa's Story...
"I started off taking Be Trim tablets, but not regularly as I'd miss some doses. I didn't really see any change. I was also inconsistent with my exercise.
Then, with clean eating, exercising 2-3 times a week, my Maharishi Ayurveda consultant suggested I take the Be Trim tablets as per instructions and combine it with Digest Tone.
I saw a gradual decrease in my weight over 6 weeks, then I hit a plateau - my weight remained constant without further loss. On advice, I doubled the dose of both tablets and the weight decrease continued. I have now lost 8.5kg over 8 weeks. Consistency is key, along with taking your prescribed dosage each day."
So take the plunge and get started today. We are here to help as we are committed to your ongoing wellbeing.
Linda Sinden
Maharishi Ayurveda Practitioner
Get Balance Team
The Herbs in Maharishi Ayurveda Products Are Prepared in the Traditional Ayurvedic Way. 100% Natural and Side-Effect Free. Made to Naturally Restore Balance in Your Body. Buy Now!